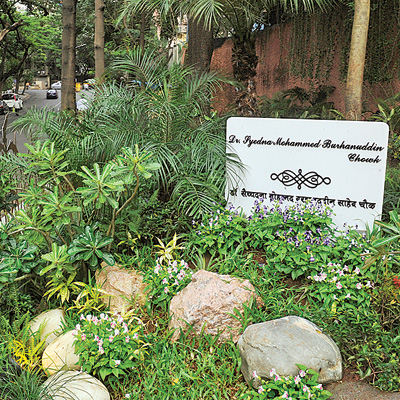 The chowk outside Saifee Mahal in Malabar Hill, has been renamed as late Dr Syedna Mohammed Burhanuddin Chowk by the Brihanmumbai Municipal Corporation (BMC). The late Syedna had passed away on January 17 due to a cardiac arrest.
The renaming of the chowk was done on July 29, when non-Bohra Muslims celebrated Eid to mark the end of the holy month of Ramzaan.
Parag Masurkar, assistant municipal commissioner of D-ward (Malabar Hill), where the chowk has come up, said that the inauguration happened after the proposal was cleared by various committees.
The proposal for the naming of the chowk was mooted by area member of legislative assembly Mangal Prabhat Lodha. He said that the renaming was suggested because the late leader lived in the area and also because he had taken up several philanthropic activities.
Lodha said: "I had moved the proposal because, firstly, the late Syedna lived there all his life and I felt there should be a chowk in his name. The late leader of the community had built the Saifee Hospital that provides affordable treatment to people. He has also undertaken projects to uplift the living condition of the poor and I see no point of controversy in this. If someone has any issue, it will be unfortunate."
Members of the Dawoodi Bohra community have welcomed the initiative of the corporation. Abdul Kadir, a resident of Andheri, said: "For us, the bungalow is a sacred place as the Syedna resided there. Having a chowk outside the bungalow named after the late Syedna will surely help citizens of other communities to know where the spiritual leader of the business community resided."