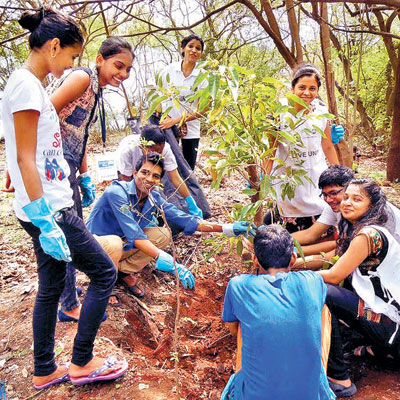 In the past three decades, I have crossed the stretch from Bandra T-junction to Sion a gazillion times, but I never thought of exploring the dense green foliage that greets you. It took an invite from a friend to finally get me through the gates of Maharashtra Nature Park (MNP) one fine Sunday morning.
The web of life mosaic that marks the entrance to the theatre at MNP depicts the park's philosophy, "This is the web of life. And we are part of it." Trust me, even a morning spent at the park will enforce your belief.
The occasion was the United Way of Mumbai (UWM) green drive at MNP. UWM, well known for its involvement in greening initiatives, among several other social engagements across the city, was given charge of five hectares of land at the park that required greening and maintaining.
This particular morning saw about 100-odd people coming together for the initiative—students, corporate workers and individuals like me. Digging the pits, lugging mud to each of it, planting saplings, supplying water, ensuring that each plant is watered adequately—we did it all! What turned the day even more beautiful was a peek at the gorgeous flamingos that had made the mangroves surrounding the park their home.
The teams from UWM as well as MNP worked alongside the volunteers through the morning. And to think that they had another such session in the evening again! The teams guided the volunteers on the best way to hold a sapling while placing it in the pit, the optimum amount of mud and water required for it and the right way to fill the pit with soil, post plantation. All this was followed with a tour of the entire premises by the MNP team.
While one side of the park is thickly covered by the forest, the other is dotted by a calming bamboo cluster. So, if you are one of those who isn't too keen to get your hands dirty, there's ample greenery to feast your eyes on. And as you leave the park, you may stop by the cosy nursery to pick a sapling or two for your home.
Maharashtra Nature Park is situated near Dharavi, which is known to be Asia's largest slum.