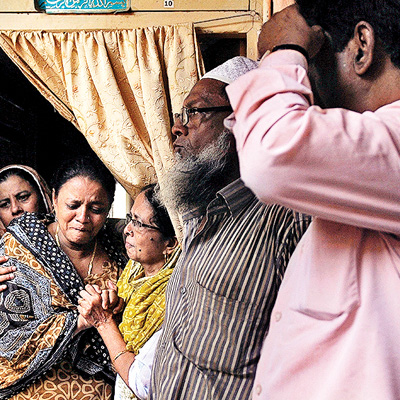 A 96-year-old man, who lived alone, was killed at his second floor flat in Nagpada late on Friday.
The police said that the body of the man, Abdul Hamid Ansari, was found by his grandson who visited the flat at Yakub building in the Madanpura neighbourhood on Saturday morning. They said that the hands and feet were tied and he died of suffocation.
Police said that Ansari's hands had been tied with handkerchiefs and legs had been tied with a piece of cloth. The robbers had stuffed a cloth in his mouth and had placed him on the bed with his face down. A police officer said that probably the accused did not intend to kill him but since his mouth was stuffed with a cloth, he died due to suffocation.
There was no evidence of forced entry into the flat. But the house was ransacked and this suggests that robbery was the motive, the police said.
Family members and neighbours told the police the man was fond of high-end phones. He possessed five phones, but all of them were missing from the house.
"It appears that the attackers also tried to open a cupboard where there was cash amounting to Rs6.25 lakh. The cash was found to be untouched. The family was unsure whether any jewellery was missing," said a police officer.
The police said Wahid, 22, visited his grandfather daily. When he got to the house at about 8.30am, he found him lying motionless and called his parents.
NK Mehetar, senior police inspector, "There was no sign of forced entry and this suggests that the accused may have been known to Ansari. We are inquiring into whether he had any enmity with anyone and the possibility that someone may have tried to settle old scores over money."
Ansari has three sons and three daughters, all of whom are married. One of the sons is abroad and another retired as a headmaster of a Urdu school in Pydhonie recently.
A family member said, "Post 9pm, he did not allow anyone in the house after that as he used to live alone. This has been done by someone who is known to him."