Building collapses following the explosion; several feared buried under debris.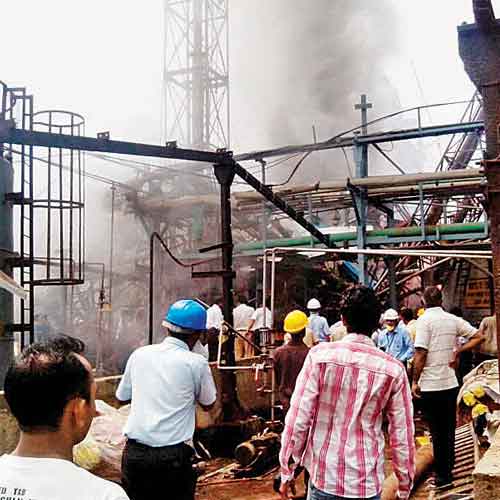 A major blast in the reactor of a drug-manufacturing company at Tarapur MIDC killed five and injured 18 people on Friday.
The dead are the employees of Aarti Drugs Limited, exporter and importer of ointments and drugs, which is located in Tarapur Chemical Zone MIDC area. The roof and glass panes of the building were shattered and the structure collapsed.
Some employees are feared buried under the debris and the rescue operation will continue, said an official. The police have cordoned off the area. Four fire engines were pressed into service and the fire doused after two hours.
More than 70 employees were working in the company when there was an explosion in the reactor. This injured some workers and people scrambled to get out, leading to a stampede-like situation.
"Five workers died of severe burn injuries," said Uttam Sonawane, senior police inspector, Boisar MIDC.
The workers were producing Methyl Nitro Imitazole when there was a blast during nitration reaction as brownish fumes were seen before the explosion, said a company official. The blast, one of the major ones in the industrial zone of Tarapur MIDC, was also felt in the villages within a 10km radius, said Vinayak Dhumal, a local resident.
"We are waiting for the post-mortem reports and the reports from Directorate of Industrial Safety and Health and will accordingly register a case against the company officials," said Sonawane.
"We are yet to confirm the exact reason behind the blast. The fire brigade officials have noted that the consequent blast in the seven reactors led to a major fire in the company, said Sonawane.
@ImranFazalDNA