Vanishing act Two weeks ago, 400 tree were poisoned at Suruchi Baugh in Vasai; locals suspect involvement of encroachers, land mafia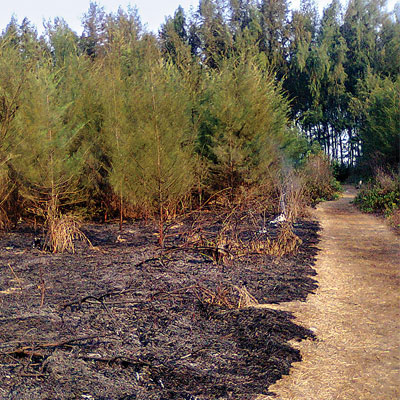 Attempts are being made to encroach land by systematically dismantling green patches along the Arabian sea in Virar. Nearly 1,200 suru or casuarina trees and bushes were burnt down recently at the Arnala beach.
The police said a group of residents of Arnala village saw plumes of smoke and flame coming out from near the sea on Tuesday. As they went closer, they saw that miscreants had doused inflammable material on the trees and set them on fire.
"Locals informed us about the fire and we have taken a note of the same. Further investigations are on," said a senior police official from Arnala Police station.
Thousands of suru trees dot the Vasai coast and many of them have been destroyed by miscreants. Just two weeks ago, nearly 400 trees were poisoned to death at Suruchi Baugh in Vasai. The timber was subsequently stolen.
"We saw that the fire had engulfed nearly 1,200 trees. We called up the fire brigade and informed the police," said villager Archana Patil. She alleged that people eyeing on coastal land were killing trees.
Locals say trees check soil erosion and prevent seawater from entering their cultivable land and villages. They also point to involvement of timber mafia in such cases. Once a tree is killed, unscrupulous elements take the logs and sell them for various purposes, including building and repairing of boats.
"The tree branches are used as firewood and are being destroyed in large numbers to occupy the space to construct illegal resorts and food joints. Casuarina trees lately have decreased due to such incidents," said Pratik Thakur, environment activist.
"We have informed the concerned department to look into the case. We have asked the police keep a close watch on people destroying trees and the Vasai-Virar Municipal Corporation has also posted its guards to keep a vigil in the area. We are tracking illegal constructions along the coastline," said Rajendra Chavan, Vasai Tehsildar.