Like the phrase about the sailor who comes home from the sea, this column is about money that comes home from overseas.
It's not something to be ignored, because India is the world's biggest recipient of remittances, accounting of 12% of global remittances. Last year, remittances to India are believed to have crossed $70 billion. Had it not been for remittances, India would have been an economic disaster and its CAD (current account deficit) would have more than doubled. Do note that remittances have begun swelling only during the past 15 years, spurred on by the Y2K (Year 2000) opportunity.
According to the 24th Report of the Standing Committee on External Affairs (2013-2014), 15th Lok Sabha Ministry of Overseas Indian Affairs and a written reply to the Lok Sabha by Vayalar Ravi, minister of overseas Indian affairs, in February this year, some 25 million members of the Indian diaspora are responsible for such inflows.
The largest amounts came from the UAE ($14.3 bn), followed by the US (1$0.8 bn), Saudi Arabia ($7.6 bn), UK($3.9 bn) and Bangladesh ($3.7 bn). The last is significant because, contrary to perceptions that Bangladeshi immigrants have been working in India, they indicate that many Indians too work in Bangladesh.
There is a second, equally important reason why India should be paying more attention to remittances than it has done all along. Remittances are funds that come from manpower exports. This is irrespective of whether the person working overseas is a plumber, mason, carpenter or a lawyer, accountant or IT professional. Eventually it all boils down to labour export. That is a resource India has in abundance, but which India has failed to nurture or exploit –that's to the short term policies of its politicians relating to educaton.
Their focus on school literacy is pathetic. More than half the children in Class VII are unable to read the words children ought to know in Class III. In a move that could only be interpreted as a method to fudge data showing India's compliance with the Millenium Development Goals (MDG) for education, Kapil Sibal, the erstwhile education minister, made promotion from one class to another compulsory till Std VIII. Thus, while on paper more students would have reached secondary school levels (automatically), in reality it is Sibal's kiss of death for school education.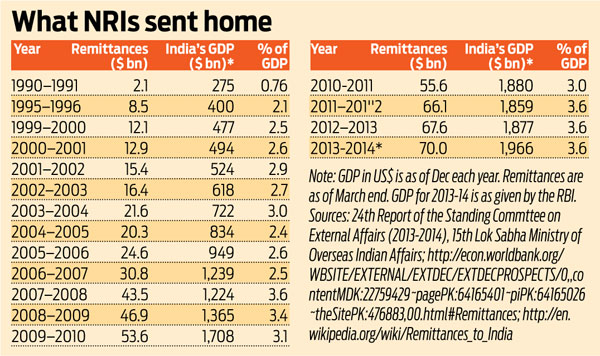 Ideally, India should refocus its attention in tightening the filters for primary and secondary education. This does three things. First, it makes students prepare themselves for a tougher, more competitive world. Second, it reduces the pressure on Classes IX and X to upgrade raw students who have been automatically promoted till Class VIII. Third, it tells a job market, in India and overseas, that a student from India does know how to read and write properly.
Link school literacy to mass production of skills in jobs that the world wants – masons, carpenters, electricians, welders, nurses and even teachers among others.
Keep the courses modular – each having a duration of not more than 3-6 months – so that students can earn and learn stage-wise, and get the right type of graded certificate.
But the certification must be based on outcomes, not government syllabi. Allow a private certification partner – Larsen & Toubro, the Tatas or any other global player – to certify them. In order to protect their own brand, they will be ruthless in maintaining standards.
If the country produces10,000 certified plumbers each year, a company like Unitech or GMR could then take up subcontracts in regions like Iraq, Iran or Russia for providing plumber skills. Russia is extremely important, because that is where the maximum benefits may lie in the future.
Guaranteed skills, and abundant supply, will allow businesses to plan for project exports as well. It will allow India to create more employment for Indians by exporting them overseas.
Project exports work on volumes of skilled workers and on costs. If India does not move in this direction, it will have failed to exploit its most valuable asset – namely manpower – which it has in abundance. It will be looking a gift-horse in the mouth.