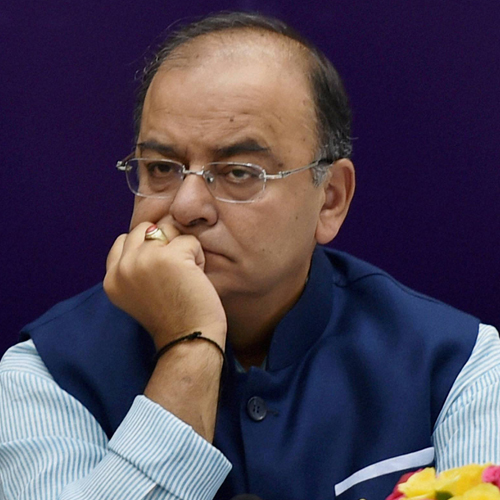 Prime Minister Narendra Modi's new government on Thursday unveiled a budget it said can revive growth after the longest slowdown in a quarter of a century even while curbing borrowing.
Modi's government, in office for less than two months, said it would raise caps on foreign investment in the defence and insurance sectors, and launch a tax reform to unify India's 29 federal states into a common market.
Delivering his maiden budget, Finance Minister Arun Jaitley told parliament that India's 1.2 billion people were exasperated after two years of economic growth below 5 percent. He vowed that Asia's third largest economy would expand at an annual rate of 7-8 percent within three to four years. "We shall leave no stone unturned in creating a vibrant and strong India," Jaitley, 61, told lawmakers after climbing the steps of parliament and showing his budget briefcase to TV cameras.
Track market updates here: Market Live: Sensex falls over 300 points, Nifty down by 100 points, government scraps retrospective tax
Jaitley's commitment to fiscal discipline was stronger than many independent economists had expected. With the deficit already approaching half of the annual target just three months into the fiscal year, they expected him to raise the borrowing target to 4.4 percent for the current fiscal year.
"Fiscal prudence is of paramount importance," Jaitley said. "We cannot leave behind a legacy of debt for our future generations."
Jaitley said he wants a solution by December on how India would impose a national Goods and Services Tax (GST), promising that the government would be "more than fair" in its dealings with the country's states on how revenue would be allocated.
Jaitley raised limits on foreign investment in defence and insurance ventures to 49 percent from 26 percent. Foreign defence contractors had sought a higher threshold to justify sharing technology when they site operations in India, a major arms buyer.
Updates from Arun Jaitley's presentation:
*Cabinet approves Union Budget for 2014-15
*Two years of sub-five per cent growth has led to challenges to the economy
*Green shoots of recovery seen in global economy
*Slow decision making has resulted in loss of opportunity
*We look forward lower level of inflation
*Will usher in policy regime that will usher in higher growth, low inflation
*Aim to achieve 7-8 per cent economic growth rate in next 3-4 years
*There is urgent need to generate more resources
*Will leave no stone unturned to create a vibrant India
*We wish to achieve 7 to 8 per cent growth in next 3-4 years
*Should we allow economy to suffer because of indecisiveness and populism
*Target of 4.1% fiscal deficit is daunting but accepting it as a challenge
*Finance Minister emphasizes on fiscal prudence, need to generate more resources
*We must take bold steps to enhance economic activity
*Expenditure Management Commission will be constituted to look at expenditure reforms
*We are for minimum government, maximum governance
*Overall subsidy regime will be reviewed, especially food and oil. Marginalised sections and SC/ST to be protected
*We have no option but to take some bold steps to spurt economy; these are only the first steps and are directional:
*New urea policy will be formulated
*Will not ordinarily bring any Retrospective tax
*We are committed to providing stable and predictable tax regime that will protect investment and spur growth
*This govt will not ordinarily change policies retrospectively which creates a fresh liability
*All future indirect transfers under the retro tax regime will be scrutinised by a high level committee of CBDT before action is taken
*We are committed to providing stable tax regime which is investor friendly: Jaitley
*Transfer pricing regulations for residents and non-residents being done
*FDI in Defence sector raised to 49 per cent
*Finance Minister Arun Jaitley takes 5-minute break; Lok Sabha adjourned for 5 minutes
*Financial stability is foundation of rapid recovery
*Our domestic manufacturing is still at nascent stage
*Manufacturing units will be allowed to sell their products through retail and e-commerce
*Budget proposes 49% FDI in insurance through FIPB route
*Our Banking system needs to be further strengthened
*Need to infuse Rs 2.40 lakh crore in our banks
*Bank capital to be raised through retail sale of shares; Govt to continue to hold majority in PSU banks
*We will examine proposal to give greater autonomy to banks:
*Budget proposes additional autonomy to banks and make them more responsible
*We expect PSUs to invest Rs 2,47941 crore this fiscal
*Infrastructre Investment Trust being set up to finance infra projects and reduce burden on banks:
*Total sanitation by 2019
*Budget proposes Rs 1,000 crore for Pradhanmantri Krishi Seechai Yojana to improve irrigation facility
*National multi-scale programme 'Skill India' to be introduced to provide training and support for employment
*Rs 200 cr set aside for the Sardar Patel statue project in Gujarat
*Deen Dayal Upadhaya Gram Jyoti Yojana to be launched to augment power supply in rural areas
*Pension scheme for senior citizens being revived
*Govt committed to providing 24x7 power supply to all homes
*Rs 50,548 cr proposed for SC development
*EPFO will launch a unified account scheme for portability of Provident Fund accounts
*Committee will be set up to examine how unused money in postal schemes can be utilised
*Govt announces schemes for disabled persons; to set up 15 new Braille press and revive 10 existing ones
*Rs 14,389 crore provided for Pradhan Mantri Gram Sadak Yojana
*Govt to launch 'Beti Bachao, Beti Padhao' scheme; sets aside Rs 100 crore for it
*Crisis Management Centres for women to be set up at all government hospitals in NCR region
*Govt increases wage ceiling for EPFO schemes to Rs 15,000 from existing Rs 6,500 per month
*Rs 3,600 crore provided for safe drinking water in 20,000 habitations in villages facing problem of impure drinking water
*Budget proposes National Housing Banking programme; sets aside Rs 8,000 crore
*Rs 2.29 lakh crore allocated for Defence budget.
*4 more AIIMS in Andhra Pradesh, West Bengal, Vidharba and Purvanchal are under consideration; Rs 500 cr provided
*Each state where there is no AIIMS will be added in the coming years
*Govt proposes to add 12 more medical government collegesGovt proposes to add 12 more medical government colleges
*5 new IIMs and 5 new IITs proposed to be set up
*'Kisan' TV channel to be launched by DD at cost of Rs 100 crore: Rs 100 crore for Community radio stations proposed
*FM proposes National Rural Internet and Technology Mission; Rs 500 crore set aside
*Metro rail services to be launched in Lucknow and Ahmedabad; Rs 100 crore set aside for it
*Budget proposes to set up agri-infrastructure fund at a cost of Rs 100 crore; two more agri-research intitutes in Jharkhand and Assam
With agency inputs