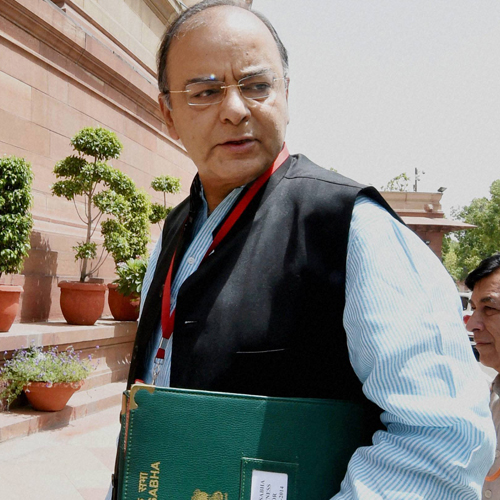 Finance Minister Arun Jaitley has some tough decision to make today. Interest groups across sectors have put forth their demands and despite the populist nature fo the Narendra Modi led government, Jaitley might not take such a populist route, many suggest.
For instance, even though, on coming to power, Jaitley extended the interim relief given on excise duty given to certain consumer durable, it remains to be seen if the continued benevolence will be seen towards the struggling sector.
Two weeks ahead of the Union Budget, Jaitley, in a rather surprising move, had retained the excise cut benefits, which were due to expire on June 30. The low excise duty was extended to December 31 and applied for automobiles, consumer durable and capital goods sectors, which are facing challenges due to weak sales and subdued economic growth.
Duty cuts on small cars, two wheelers and commercial vehicles (CVs) (which ranged 8% to 12%), on large and mid-segment cars (which saw the excise duty slashed to 24% from 27% and 20% from 24% earlier respectively) will continue till December-end. Similarly, a duty cut on sports utility vehicles that were reduced by 6% to 24% will also be continued for next six months. Read more
Way forward
Considering the sectors are yet to recover from their suggish growth, many have requested the finance minister to provide assuage to the companies. The durables industry, which witnessed growth rates of 12-15% in April last year, saw business degrow to less than half i.e. 5-7% in the same period this year.
Consumer Electronics and Appliances Manufacturers Association (CEAMA) asked in its budget wish-list, "Reduce customs duty on project imports to 0 percent to enhance manufacturing set-ups and invite new technologies/investments into India, furthering the objective of making it a manufacturing hub." The association has called for reduction in excise duty on production of energy efficient products and remove inverted duty structure. It has also sought faster implementation of GST to decrease compliance burden for businesses as well as reduce paper work while making tax system simpler and transparent. The industry body also called for reduction of customs duty on LCD/LED televisions to 0 percent to provide a level-playing field to domestic manufacturers.
Also read:
Don't sign new free-trade pacts for five years, says Anirudh Dhoot, director of Videocon and president of CEAMA.
For the industry to bounce back, CEAMA strongly proposes removal of the inverted duty structure on consumer electronics and home appliances, arising due to implementation of FTAs. We also recommend review of existing free-trade agreements (FTAs), which have not been in favour of the industry overall, and not to sign any new FTAs for the next five years. Read more