Though Pride Marches in the country captivate the media's and the public's interest with their colourful displays of unity, Gee Ameena questions how much the LGBT 'family' has embraced its various factions.
Every large city in India now has its own LGBT/Queer Pride Marches. Last year, one city even received corporate funding as as high as Rs5 lakhs from companies such as Google and IBM, for their Pride event. Corporate social responsibility, that seemingly benevolent and liberal monster that is used to cover up the silent murder of our people and the plunder of our resources, is being welcomed with open arms by some sections of the queer 'community'. What exactly is a queer community in India? An umbrella term to erase differences of caste, class, gender, sexuality that exist to present a rosy picture of the LGBT 'family'? The 'queer family'!
This is a family that replicates traditional, heteronormative family structure. We have the economically dominant father (self-obsessed rich gay men), mostly invisible mother (lesbians), and the black sheep of the family (transgender people). Whether ftm (female to male) or mtf (male to female) or gender queer, they are an embarrassment to most LGB people who could never damage their liberal credentials by admitting the disdain that shows on their faces when transgender people join family gatherings. The self-identified 'queer community' is mostly constituted of English-speaking, dominant caste gays or lesbians, who are familiar with the Western discourses of LGBT politics, even if the working class queers push boundaries of gender and sexuality in all kinds of new ways. At what stage of uncritical thinking does an identity that questions heteronormativity take on hegemonic forms of its own, becoming enemies in the battles against sexism, casteism and classism?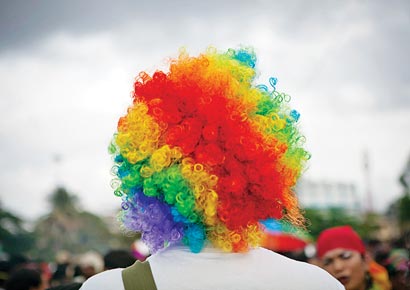 In this 'family', transgender bodies are the most dispensable. In discussions around organising Pride March, someone said, "This year, we will start the celebrations with a transgender day of remembrance." Obviously, this person has no clue about what it means to be transgender and the rate at which we are losing our trans brothers and sisters to suicides and murders. When our trans sister Maria was murdered brutally in Kerala, why were there no marches of outrage on the spot, why are there no sustained engagements asking what the trans community needs in terms of systems of support so we won't lose more people?
I would say that what we really need is a sustained and independent movement outside of NGOs for the scrapping of the monstrous laws criminalising hijras like the Karnataka Police Act, an LGBT atrocities act and anti-discrimination laws, decriminalisation of sex work, reservation for dalit trans people in jobs and education, state IDs in our chosen genders, subsidised and safe sex reassignments surgeries and health care for trans people, the right to dignity and safety for the working class, as well as street-based hijra and mangalamukhi communities.
The Stonewall uprising that led to the first Pride M in 1969, were led by working class, Black and Latino drag queens, kings and trans people in North America. It was not a party, but a violent struggle for our rights. The right to exist, to express our genders the way we want, with dignity. The real wars that go on around us are not spectacular. They go on, unnoticed.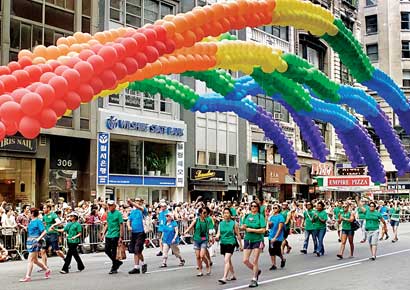 Violence without bullets in the basis of the city. Violence with bullets against adivasis, Maoists, Muslims and dalits. The criminals hold the key to jails. A million murders of malnourished children, homeless people, farmer suicides, displacement due to 'development' projects, worker deaths in factories, no pay for productive work, more pay for unproductive work, caste violence, dalit womens' struggles, street based trans people, sex workers, bonded labour, political prisoners, criminalised muslim brothers, the list is endless.
To not sound like empty rhetoric, I propose, as a trans brother and comrade to people involved in the struggle for this pride, that we surprise the media and public with a political stand. Use the visibility of Pride March to communicate our outrage over the daily assaults upon our communities. Hold placards and posters about a wide range of struggles going on around us, darken our rainbows and march in black.
Invite other dalit, Muslim, adivasi and women's groups to march with us and to bring their issues and highlight them.
Have a meeting at the end of the march with all present to think about ways forward and to tackle the sexism, classism and trans phobia within the "queer family".
Gee Ameena Suleiman is a transgender man. He is part of LesBiT, an organisation for LBTpeople in Bangalore. You can contact LesBiT at lesbit.lbwp@gmail.com