The images speaking more than a thousand words, Raghu Rai's new book underlines the stark contrast between former prime minister Manmohan Singh and his successor Narendra Modi, says Gargi Gupta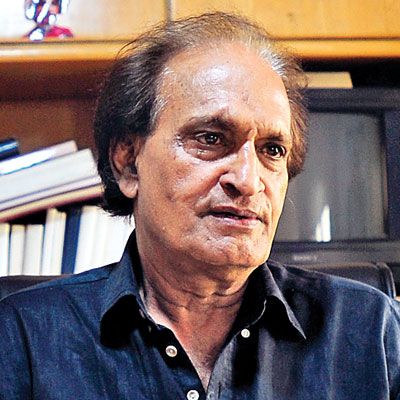 On January 17 this year, Raghu Rai, inarguably India's best known photographer, spent four hours photographing the All India Congress Committee (AICC) session held at Talkatora stadium in the capital. With elections round the corner, the 129-year-old party, it was thought, would — finally — name Rahul Gandhi its prime ministerial candidate that day.
It was after 25 long years that Rai was getting back to political photography. Though he had started out as a photojournalist and had worked for many decades with newspapers and magazines, he left in 1992 to pursue more "enduring" projects, with books or large-scale exhibitions documenting events (the Bhopal gas tragedy), people (Mother Teresa and Indira Gandhi) or places (Delhi, Kolkata, Mumbai, Lakshadweep, etc).
But the coming elections were going to be crucial, with palpable anger against "the mismanagement, lack of good governance, corruption and crime" of the UPA governments and Rai felt he couldn't stay away.
What he saw at the Congress camp "shook him up", he says. While everyone on stage gathered around Sonia and Rahul Gandhi and raised slogans to them, Manmohan Singh — the man who had led the government for two terms — sat isolated, grim-faced on the stage. No one spoke to him and he spoke to no one. "Not once in those four hours did his expression change," says Rai, still sounding indignant. "I found myself asking how a prime minister had been reduced to nothing."
Curious to find out what was happening in the rival camp, Rai was at the Ramlila Maidan two days later to attend the BJP's National Council Meeting, at which Narendra Modi was to address delegates from all over the country. What he found there was "less sycophancy" and a man who moved and spoke like an important leader.
'The Tale of Two, An Outgoing and An Incoming, Prime Minister', Rai's next book, brings together the two sets of images, underlining the contrast between their public faces and their positions in their party — and also explaining why Singh was such a dismal failure, and why Modi holds so much promise. A slim volume of 80 pages, the images are arranged according to time — 10.30, 10.35, 11.10 and so on — to give them a narrative frame. Images, of course, are worth a thousand words, and in the case of Singh, enough has been said about his silence, his impassive expression and his absolute loyalty to the "high command".
Modi's dramatic style and his forceful oratory are also well known. But to see a grim and gloomy Singh on the stage with the Gandhis smiling, waving to the crowd with a look that can only be described as smug self-satisfaction, brings into sharp relief just how untenable the prime minister's position was in the dying days of the last government.
In an age of 24X7 television, when we are surrounded by moving images that mill around us without leaving an impact, it takes the solidity of a still photograph to drive home the quiet pathos of being a Manmohan Singh.