Game nights and 'play groups' are breaking the Indian myth that board games are only for kids, Pooja Bhula reports.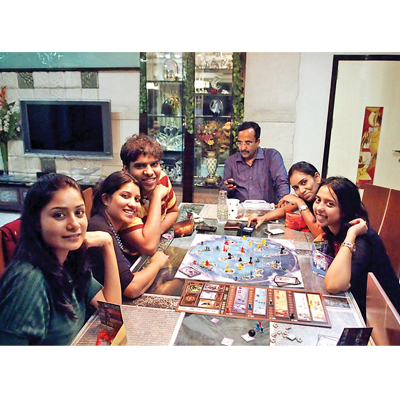 Contenders like Haath Party and Kamal Party fight for power across a board where careful strategy and the throw of the dice determine who will win the maximum number of seats. Sounds familiar? Marrying India's fascination with things political to a new interest in adult board games, Politics of India hopes to make a mark in a market monopolised by global classics like, well, Monopoly and newer ones like The settlers of Catan.
"Honestly, I wasn't thinking about elections, but politics was surely on my mind," says Jodhpur-based Sreekanth Bohra, who runs a tech start-up with his partner Ritu Choudhary. Geeky Buddha is into electronic projects and mobile apps. A board game may seem out of sync, but is totally in keeping with the resurgence in game nights and 'play groups'.
Sreekanth came up with the idea of Politics of India, last January, after an intense session of board gaming at Bangalore Board Gamers (BBG), a public meet-up in Bangalore. The production of 2,000 copies began in April and the launch—for which he has tied up stores like Landmark and online retailer Flipkart—is planned for July.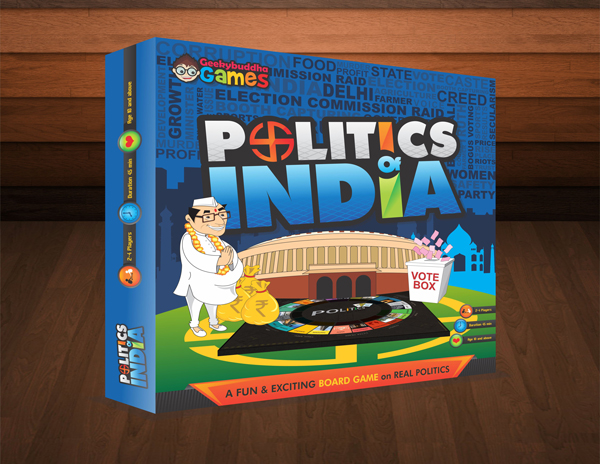 BBG with a membership of 1,300, has meet-ups every week. It has a collection of 50 games and its current organiser, Ajith Kumar lays out 10-15 in each meeting. Members pick games and play in groups. While it is not compulsory, most members contribute Rs. 100 every week towards the groups fund, which is used to buy new games and replace lost or damaged parts. Bangalore also has meet-ups for poker, business games and board gaming at night.
Ajith shares, "The culture of online gaming in India has increased traffic the board gaming way as many are adaptations of online ones and have similar rules."
In Mumbai, the buzz of board gaming in public spaces began five years ago with Board Games Bash (BGB), started by Ajesh Shah and Tarun Durga. What started off as a group of 10 at Carter Road, now has a Facebook presence of 1,043 members and most BGB events see about 25-30 people.
In April last year, Prashant Maheshwari started a more serious gaming meet-up, the Mumbai Board Gamers, which has already held over 200 meet-ups across the city and has over 200 games in its collection. "Before marriage, I played a lot of video games, but my wife wouldn't have enjoyed it. That's why I started this group. It is free and open to all, but newbies have to apply and are screened before being accepted. We don't want it become a socialising or dating space." For new members, the group also holds induction events with easier games, in public places, and gradually introduces them to more difficult ones.
The Gurgaon Board and Card Gaming group seems to be the most active in the NCR region. But there's a long way to go, says Rashme Hora, who started two franchisees of the Singaporean board games cafe, Mind Café, in Gurgaon two and a half years ago. "The board gaming culture is almost non-existent in India for several reasons. It is assumed that board games are only for kids. This is probably because, unlike other countries, India games does not use board games for educational purposes; even for team building, outdoor sports are looked up to rather than board games. Not realising the use of board games beyond recreation, most people wouldn't want to spend Rs. 2000-3000, the cost of good games. I have also noticed that people here prefer playing in their close-knit groups"
The stand-alone Mind Café has closed down temporarily as Rashme plans to tie-up with a mall on a revenue-sharing basis to make it more financially viable. But the one in Fortis Hospital in Gurgaon continues as the hospital is keen on giving families of patients something interesting to do.
While Rashme found the culture of public board-gaming most happening in Mumbai and Bangalore, Rishabh Shah, one of the first BGB members and a marketing consultant, who now imports board games, finds that, "Sales in Mumbai are less, but the demand in Delhi and Gurgaon is huge." Looking at this in light of Rashme's observations, it seems like the popularity of board games groups in Mumbai and Bangalore may initially result in lower sales because people don't have to buy the games to play them. Whereas, the trend of playing with friends and family that is prevalent in the north may be the reason for higher sales in Gurgaon and Delhi. But logically, more exposure should eventually lead to higher sales.
Due to lack of availability of good games in stores, most gamers make purchases online or ask friends and relatives, who are travelling abroad, to bring back games for them. "My partner and I realised that good, international board games for adults are not available in India; stores only get new ones for kids. So we stock and sell the latest collection all over India through our website BlahGames.com. Besides individuals, we also supply to Infibeam, Amazon India and Flipkart, and will soon supply to Hamleys and Landmark as well." Some entrepreneurs in India are also experimenting with the idea of giving board games on rent.
Giving a global perspective, Rashme adds, "In Europe, board gaming is a family activity, whereas the concept of cafes originated in South Korea and spread to Singapore, Malaysia, Indonesia and then China, where it has caught on the most. The one child policy is a major reason for people wanting to bond with strangers. Currently, Canada's Snakes and Lattes Board Games Cafe is the best in the world with over 5000 games. You just have to pay an entry fee for the day and then play for as long as you wish. You're under no obligation to eat or purchase something. But you have to book your entry in advance as there's generally a five-day waiting period. In some other countries the trend of board games picked up in universities because foreign students and professionals needed spaces to bond and do something meaningful."
Gaming groups find that due to the stressful lives led by city-dwelling Indians, most initially show a preference for light and fun games that can help them unwind. But over time, many also take to challenging and intense games. These groups are taking board games beyond the realm of hobbies, to tools for education, strategic thinking, bonding, and recognising skills and personalities of work-mates. An indication–a professor of IIT Kanpur recently consulted Blah Games regarding games to be included as part of a course.