Floral may have been the season's preferred trend but, there are styles here for every man, and every occasion, says Radhika Dhawan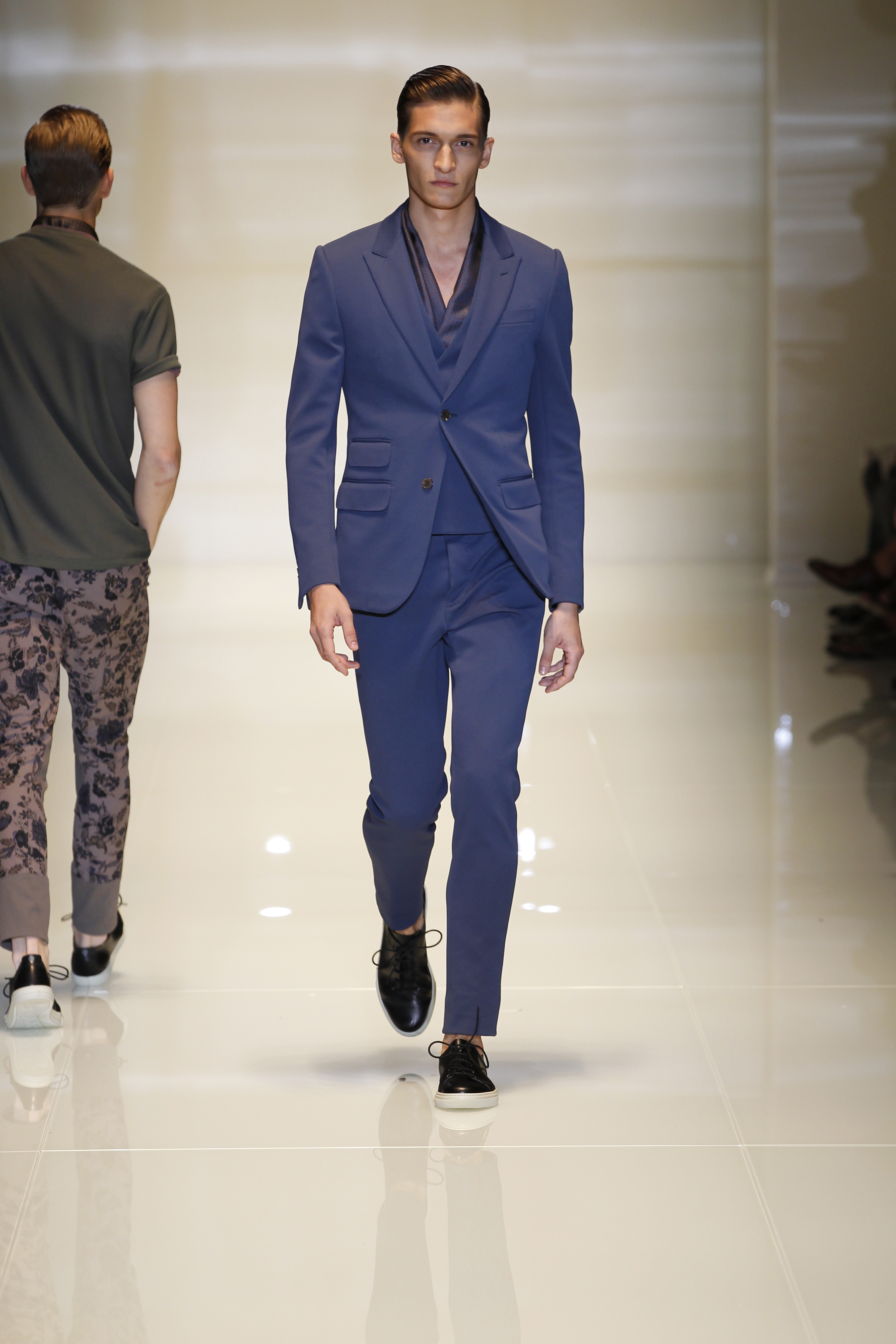 The noteworthy feature of the new men's luxury trends is the simplicity (for the most part) and comfort element. After approximately half a decade of palatable foppishness, this seems to be the moment when some pull back in favour of something cleaner and simpler.
Some termed it "Smasuals" - it's safe to say that the smart casual trend has arrived. Men are returning to the concept of luxury equating comfort and this time around with a more laidback approach. There seems to be willingness amongst the ones with the more daring sartorial choices to break suit and experiment in the pursuit of the perfect outfit complemented by a strong desire amongst designers and brands to help them do so.
Here are a few of the season's top trends and some pieces to own.
Big checks/Checkmate
Checks are already a huge staple in men's wardrobes but this year they're being taken very seriously. Expect them to feature on everything from tshirts to trousers and shirts. The great thing about this trend is its versatility. Add a subtle, muted check to an outfit for a touch of detailing, or go all out in head-to-toe, oversized checks in bold colours.
Gentlemen, feel free to bring out those Burberry shirts, you will be right on trend. Other major design houses such as Brioni, Alexander Wang, Alfred Dunhill, Alexander McQueen, Hugo Boss and Giorgio Armani with their own interpretation of the check for 2014 as well, only means that the pattern is here to stay for the long haul.
Still indulging your inner dandy? Toby Bateman, Buying Director MRPORTER.COM says, "Follow Thom Browne as he takes the patterned sports jacket to its logical conclusion with this eye-catching printed version. We'd wear it with a white Oxford shirt– and a confident stride."
This trend is so easy to pick up and go with that you can't really get it wrong.
Neutrals
Balmain, Ermenegildo Zegna, Canali, Michael Kors, Etro, Bottega Veneta, Dolce & Gabbana, Alexander McQueen all incorporated neutrals within their collections and applied nude tones - peachy pinks, neutral nudes, creams , greys or basic beige - to a wide variety of designs.
Although often used to complement an outfit, sometimes one neutral hue is all you need to make a sophisticated style statement. Pulling together a successful single-colour ensemble needs careful consideration by mixing shades and textures.
Bateman points out, "There's something about cream clothes that lets them retain an unshakeable aura of exclusivity. Perhaps it's because they demonstrate that a man has the good taste to choose cream over white, or perhaps it's down to the implication that he has the money and time to be untroubled by the colour's glamorous impracticality."
If tonal dressing isn't for you then a neutral separate paired with modern staples such as slim-fit jeans or chinos will achieve the perfect balance of classic and contemporary.
Slip-on sneakers
Inspired by the flat-soled shoes which skateboarders wear, slip-on sneakers are one of the key trends this season. There is something particularly appealing about these lightweight sneakers that quite literally slip on and off, whether you're hitting the beach or clearing security at the airport.
These wonderfully easy to wear slip-on sneakers are slightly smarter than their lace-up cousins, and that means they are versatile enough to be paired with a slim-fitting suit just as well as with jeans, chinos or shorts. Although this isn't a conventional nine- to-five look, you might just get away with a subdued pair at the office, depending on the severity of the dress code.
With Bottega Veneta's woven suede to Alexander McQueen's daring skull motif and others like Lanvin, Iceberg, Yohji Yamamoto, Bally, Maison Martin Margiela, Jimmy Choo and Valentino, to name a few, lending this simple, relaxed sneaker an air of sophistication through its use of high-quality materials, you can be rest assured that you could be wearing them day to night fairly soon.
Varsity jackets
Bomber Jackets won't be a new concept to you (you probably have one in your closet right now in a black or navy). However this season's key casual jacket style is the bomber's almost twin - the varsity jacket. With slight element variations like the rounded collar and sleeve pockets these two are basically the same.
The sartorial influence of Ryan Gosling's character in Drive continues, as Maison Kitsun, Saint Laurent, Burberry, Paul Smith give this US design a European edge, thanks to the slim cut.
One of these would be perfect at a gig. Alternatively, remove it further from its sporty origins by wearing it with formal trousers and dark leather shoes.
Floral prints
It's time to flower up, the dominant motif for this year is a tropical floral and I don't mean your run-of-the-mill Hawaiian shirts. Head-to-toe florals were big at Alexander McQueen, 3.1 Phillip Lim. The Gucci man's romantic soul and instinctive spontaneity set the pace with the floral-inspired prints, across a variety of designs and pairings including a two piece floral print suit. The design is bigger and more discreet than many prints, it bears a resemblance to urban camouflage.
Although, if Gucci's full-on print suit is not your style, you can always inject some of the pattern into your wardrobe with your summer swim shorts, a shirt or by getting your hands on one of Prada's standout Hawaiian holdalls. Wallpaper-like florals, botanical leaf prints and hand-painted blooms have found their way onto cashmere-silk scarves, bags, shirts, tshirts, trousers, multi-tone floral bombers, shorts and outerwear.
Also tapping into the bloom prints trend are Richard Nicoll, Jonathan Saunders, Raf Simons, Kolor, Valentino, Dolce & Gabbana, Saint Laurent, Givenchy, Marni, Paul Smith.
Tailored shorts
Most precariously poised between runway and reality this season the long, large-volume Bermuda shorts have swept runways from London to Milan to Paris, in collections ranging from McQueen to Jil Sander to Balenciaga.
Bateman tells us, "The only sign of a change to the prevailing narrow silhouette comes in the form of the trend for loosely cut tailored shorts, which both look better and feel more comfortable than tighter versions." They also remind us that loose-fitting tailoring need not be shapeless – quite the reverse, in fact.
Shorts are increasingly becoming office-appropriate (again depending on the rigours of dressing). I'm certain that those of you stuck in office attire would appreciate Sarah Burton at McQueen's clever version on the classic suit as an immediate option for the Indian Summers.
This silhouette which isn't all that different from a basketball short may just be the most comfortable fashion item for men next year backed by the likes of Fendi, Marni, Iceberg, 3.1 Philip Lim, Paul Smith, Raf Simons. Take full advantage!