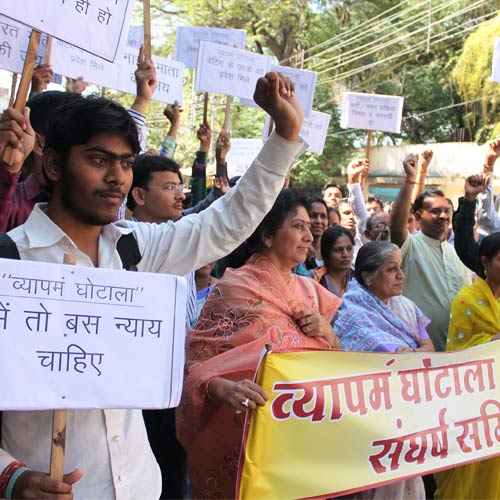 Communist Party of India (CPI) leader Atul Anjan on Monday hit out at the BJP over its sincerity in fighting corruption.
Commenting on the Vyapam Scam in Madhya Pradesh, which has placed the BJP on the wrong foot, Anjan said, "Those who were brandishing the tag of being a votary of being honest has been found deeply involved in corruption. Madhya Pradesh chief minister's wife, including Union Water Resources Minister Uma Bharti, and other government officials and other BJP leaders role in this case have surfaced,. Former minister Sharma's arrest proves that an estimated 300 to 400 crores of corruption had taken place."
"It is they who turned away the focus of corruption from the people by fooling the people on religious issues. Now the truth has come out, neither the BJP nor the prime minister is saying anything," he added. "This scam in Madhya Pradesh proves that the relationship between corruption and BJP is very close to each other," he further added.
The Congress, has reportedly dragged Union Minister Uma Bharti's name in Madhya Pradesh's Vyavsayik Pariksha Mandal (Vyapam) admissions scam.
During a press conference, Congress spokesperson KK Mishra reportedly disclosed the call details of the central minister blaming her of using political influence for 15 admissions in government jobs. The recruitment scam had reportedly involved manipulation in the selection process for government jobs conducted by the Madhya Pradesh Professional Examination Board (MPPEB).
A Special Task Force has been constituted for an investigation into the Vyapam scam which had detained Laxmikant Sharma, a former state technical education minister, for interrogation. The high profile teacher's recruitment scam in Madhya Pradesh is being linked to Chief Minister Chouhan's wife, Sadhna Singh.