Many organisational bodies have travelled to Uttarakhand to evacuate and help the victims. Their courageous and brave efforts are commendable and applauded.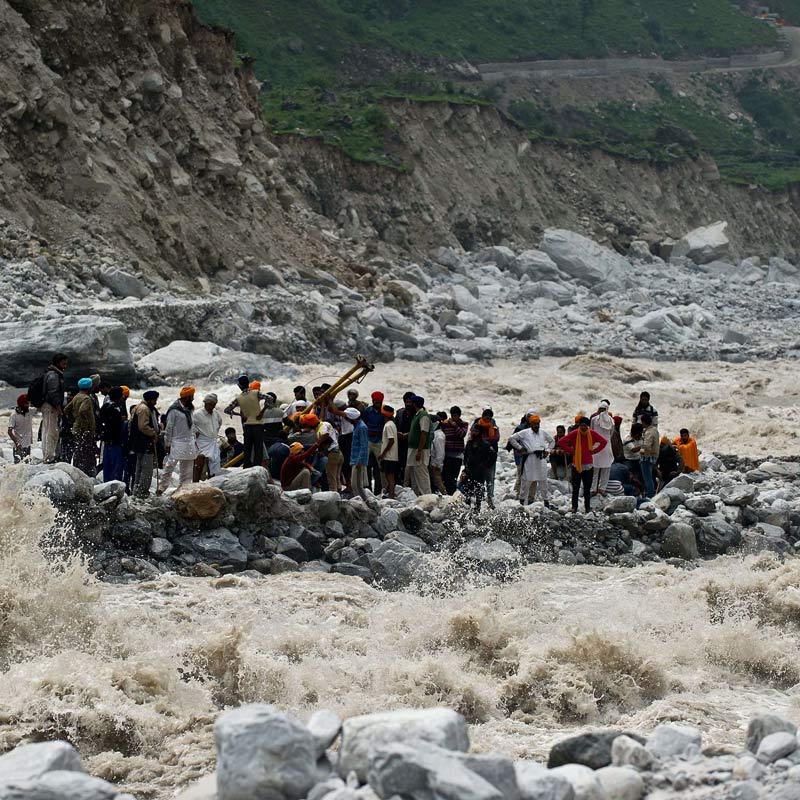 On the ninth day of the worst natural disaster in the country this year, Uttarakhand still lies wounded from the devastating floods and landslides that took several lives and left thousands sranded.
The entire country suffered a huge loss as pilgrims from all over were visiting the worst affected Badrinath and Kedarnath areas
Many organisational bodies have travelled to Uttarakhand to evacuate and help the victims. Their courageous and brave efforts are commendable and applauded.
The Indian Armed Forces (IAF) has put to use some of the best military skill-sets to great effect in the flash-flood affected zones of Uttarakhand and rescued hundreds of fatigued and exhausted stranded tourists almost seven days after the tragedy struck the Kedar Valley.
The state's disaster management and mitigation minister Yashpal Arya Uttarakhand denied reports that quoted him as saying that he feared the toll was nearly 5,000. "The enormity of disaster is so big that the toll could be more than the present figure. However, the picture is likely to be more clear in the coming days" he said.
So far, more than 80,000 people have been evacuated to safety.
Also see: Nation's heroes come to the rescue in flood-ravaged Uttarakhand

Developments on this big story:
* Helicopter rescue operations to evacuate around 9000 stranded people today picked up pace after rains and fog in the morning delayed the mission in calamity-hit Uttarakhand where the death toll mounted to 822 with 127 more bodies recovered from Kedarnath.
* The Border Security Force (BSF) will donate Rs.16 crore for disaster relief in flood-ravaged Uttarakhand. "We are donating one day's salary of all personnel," a BSF statement said. The BSF said it will adopt a few of the devastated villages with a view to providing rehabilitation and reconstruction on a longer term. "An amount of Rs.2 lakh each will also be given to the Uttarakhand Police and Indo-Tibetan Border Police personnel deceased and missing in the rescue operation," said the statement.
* As rescue operations get stretched in the upper reaches of Uttarakhand, the ITBP today decided to send in a fresh contingent of its troops and bring out those tired and exhausted. The paramilitary force, according to sources, is replacing close to 45 men with an equal strength in the areas of Kedarnath, Badrinath, Harshil and Gaurikund. "Yes, we are rotating our boys.They will be sent on IAF choppers as soon as weather clears," Indo-Tibetan Border Police (ITBP) sector DIG Amit Prasad said. The ITBP has been at the forefront of the rescue operations since June 17 when flash floods and rains devastated large swathes of areas in the state. With the force having based three battalions in the state as part of border guarding duties along the Sino-Indian frontier, it becomes the first responder in this area in case of disasters. Close to 1,000 ITBP men are deployed for these tasks in the state. While three ITBP jawans were brought down from Kedarnath after being air evacuated yesterday, six had earlier been rescued after they were trapped with local people in Kedarnath since flash floods broke in the area.
* Official sources said that 127 more bodies were recovered since yesterday from Kedarnath area, taking the death toll to 807.
* Fresh incidents of landslips were also reported from Tehri district in which a woman and a child were killed.
* Foggy and overcast conditions in Dehradun delayed take off by choppers at Sahasradhara helipad and Jolly Grant Airport but air rescue operations to evacuate around 9000 people have now resumed with improvement in the weather.
* Meanwhile, truck loads of dry Deodar wood and ghee have been despatched to Kedarnath and the effort is to begin the process of mass ritual cremation of bodies strewn over the premises after their identification, post mortem and DNA preservation formalities, sources at the state police headquarters said. With the bodies already beginning to putrefy, the air is laden with a stench giving rise to fears of an epidemic outbreak in affected areas. A 42-member team of forensic experts and scientists had already left for Kedarnath yesterday to conduct the post mortem of the bodies and preserve their DNA samples, police sources said.
* Rahul Gandhi leaves for Guptkashi after spending the night in Gauchar.
* Rescue efforts are now focused on Badrinath and Harsil, which is 400 kms away. 1200 people who are at Harsil are waiting to be air-lifted.
* The first batch of yatris or pilgrims who were stuck near Badrinath have just been rescued. They were escorted through a ropeway and makeshift bridge by soldiers.
* The national highway that connects Badrinath to Delhi is blocked in several parts because of fresh landslides. So thousands of pilgrims are waiting to move out of the region.
* The search and rescue operation in Kedarnath, the epicenter of the disaster, has concluded, said officials today. "No survivors remain in the jungles around Kedarnath. They have all been brought out," said Ravinath Raman, an officer involved with the rescue operation.
* Congress vice-President Rahul Gandhi spent the night at a base camp in Gauchar last night. He arrived in Uttarakhand on Monday as Home Minister Sushil Kumar Shinde warned that visits by VVIPs impede rescue operations, and that political leaders will not be given landing rights.
* Relief train carrying 1500 passengers from Uttarakhand reaches Mumbai.
* Bad weather conditions, which hampered the rescue operations in the flood-hit Uttarakhand yesterday, are expected to stay the same on Tuesday and affect the evacuation of nearly 9,000 people still stranded in the upper reaches of the hill state.

* Fresh reports claimed that nearly three people were killed due to cloudburst in Tehri's Deyprayag area. The incident occurred at around 6.30 am in which several houses were damaged and many others were injured.
* The Army, the National Disaster Response Force (NDRF), the Indo-Tibetan Border Police (ITBP) and various other agencies, which suspended the rescue operation yesterday due to inclement weather, will try to reach out to those who still need help.
* According to reports, Indian Navy's elite Marine Commandos will be deployed in Rudraprayag to help in search and rescue operations.
* Home Minister Sushilkumar Shinde says death toll will rise after debris is cleared in Uttarakhand.
* Twelve naval divers are heading to Rishikesh to look for bodies. Unmanned Aerial Vehicles (UAVs) have been deployed to retrieve bodies from inaccessible areas.

* Most of the tourists stranded in the Sangla valley, Pooh and Nako area of the Kinnaur district were rescued by the security forces and taken to safer places. However, there are still over 9,000 people stranded across the state.
* Around 430 people were airlifted from the Harsil-Gangotri axis area. IAF sorties were suspended but foot-evacuations of those stranded continued
* With the rains hitting much of the air operations, soldiers took to rescuing the stranded men, women and children by foot in a coordinated operation involving the state and central authorities.
* Fresh landslides occurred on the key road linking Rishikesh and Rudraprayag, hitting rescue efforts. But the route ahead to Joshimath was open.
* Officials said some 1,400 people awaited evacuation at Harsil, 50 at Dharali and 60 at Jhala in Uttarkashi and another 5,000 at Badrinath, near the worst-hit area.
Also read: Massive operation on to restore honour of dead in Kedarnath

* A massive cloudburst near the revered Kedarnath shrine and the humongous floods that followed ravaged the hills of Uttarakhand over 10 days ago, causing a terrible calamity.
* With vast stretches of mountain roads cut off, thousands of locals as well as pilgrims got stranded in various hills.
* Monday's inclement weather forced the Army to continue rescue operations on the route from Badrinath to Joshimath and from Harsil to Uttarkashi.
* In Badrinath, 281 people were moved by land late Sunday after the construction of a Burma bridge across the swollen Alaknanda. The army set up a heli bridge at Lam Bagar in addition to a foot bridge.
* Two army and three civil helicopters ferried people from Badrinath. Eight hundred were moved towards Joshimath, both by air and on foot.
* In Uttarkashi, MI-17 helicopters made 16 sorties to take out 402 people from Harsil. Another 683 people reached Uttarkashi by foot.
* Knowing that food is in short supply, the Army has stocked food, water and medicines at Sukhi and Gagnani. Food was distributed at Govindghat and Joshimath.
* In the Kedarnath area, special troops from the mountaineering unit continued to look for survivors between Jungle Chatti and Rama Bara areas.
* More rains have been forecast in the coming days. On Monday, rains battered many areas including Dehradun, Chamoli and Paudi where relief operations have been halted.
* A cloudburst in Malan village in Paudi has devastated many houses though no casualties have been reported.
* The government says 557 bodies have been found. Some officials and rescuers have said the fatalities may run into hundreds, if not thousands.
* The rains have cut off communication to Tilwada and Gaurikund, where more than 500 people are stuck. Efforts to evacuate them were aborted due to heavy rains.
* Rains are also lashing Guptkashi, Harsil and Badrinath - places where thousands are still stranded. Water levels have again risen in the Alaknanda and Mandakini rivers.
* In New Delhi, aid agency 'Save the Children' said thousands of children and women stuck in Uttarakhand needed immediate medical attention and food.
* Help is pouring into Uttarakhand from all over the country.
* In New Delhi, Congress president Sonia Gandhi flagged off trucks carrying food, medicines, clothes and blankets.
* In Himachal Pradesh' Dharamsala, hundreds of Tibetan exiles offered prayers for those who died in that state and Uttarakhand.