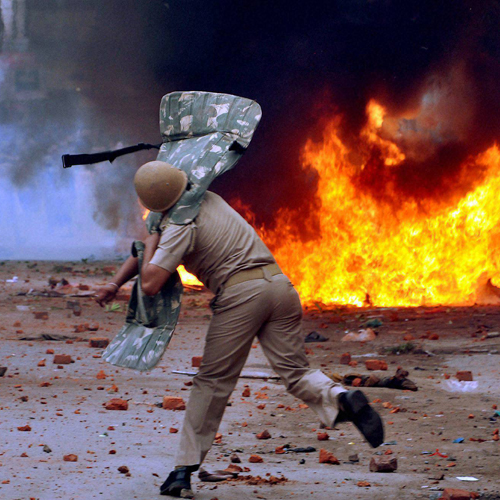 Uneasy calm prevailed in violence-hit areas of Saharanpur in Western Uttar Pradesh even as the district administration announced relaxation in curfew for a few hours on Monday.
The relaxation in curfew is aimed at allowing the local to buy necessities and would be done in phases across the sensitive areas of the city. The administration will take a call on further relaxation in curfew after taking stick of the situation today evening.
Not wanting to take any chance, police and paramilitary personnel remain deployed in strength in trouble hit areas. Around 18 companies of additional force including eight of PAC, six of CRPF ,two of RAF and two of ITBP are reportedly deployed in the troubled areas.
There were a few minor incidents of stone-pelting in some areas, yesterday, but the situation was by and large under control.
Three people were killed and 33 severely injured in Saturday's violence that broke after a court verdict on a land dispute led to some construction work on the land claimed by a local gurdwara.
Muslims in the locality opposed it and claimed that the land remained disputed. Soon a mob gathered at the spot and people from both the communities pelted stones and fired at each other. The mob also torched many vehicles and shops in the area.
A total of 38 persons have been arrested for inciting violence, more arrests are expected. The Uttar Pradesh government said it would charge the riot accused under the stringent National Security Act.
Meanwhile a political blame game that has begun over the issue. Senior BJP leader and Union Minister Kalraj Mishra accused the ruling Samajwadi Party of indulging in "vote-bank politics" and said it appeared that the riots were preplanned.
Citing Rahul Gandhi's earlier claim that ISI was active in Muzaffarnagar riots, Mishra said that the same was true for Saharanpur as well.
The Samajwadi Party has hit back by dragging the RSS in to the issue. Senior SP leader and minister in the Akhilesh government, Azam Khan alleged that plans to endanger peace in UP were being worked on in the Nagpur headquarters of the RSS.
While blasting the UP government for "lapses", the Congress has also chosen to blame the BJP. "It is very unfortunate that the BJP is creating such a tense situation. BJP was responsible in Kanth in Saharanpur also they are responsible. The BJP wants to push the state into a vicious cycle of hatred," senior party leader Rashid Alvi said.
Meanwhile Union Home Minister Rajnath Singh is believed to have briefed Prime Minister Narendra Modi of the situation in Saharanpur.
Read here for live updates and full coverage on the Saharanpur violence