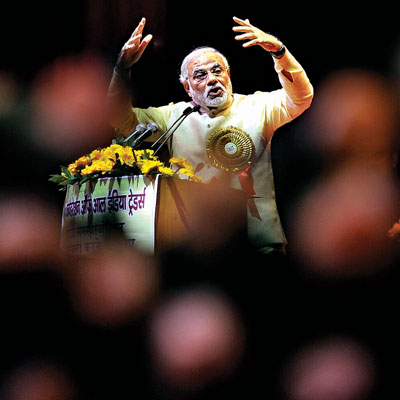 It was a hectic day for BJP's PM candidate Narendra Modi in the national capital, where he addressed a series of conventions spelling out how the Indian economy, which has sunk to below 5 per cent GDP growth can be revived.
He spoke of the three D advantages that India enjoyed — democracy, demography and demand and contrasted this with the three Ds "ignored" by the Congress-led UPA — direction, dedication and determination.
In his over an hour-long speech at the India Economic convention, he advocated eliminating archaic laws, making development a mass movement like during the freedom struggle, integrating strengths of Delhi with those of the states and use of alternative energy sources. He asked traders to face global challenges and use technology to create "virtual malls in small shops" to cater to small-town consumers.
He addressed traders, traditionally the BJP's support base, in the morning and chartered accountants later, made a speech before a group of economists, policymakers and businessmen in the afternoon and ended his day with a party meeting to announce the BJP's first list of candidates for Lok Sabha elections.
While unveiling his vision of governance, he took on prime minister Manmohan Singh and finance minister P Chidambaram. "Sometimes, there is need to take tough decisions... Or you should not sit there. The decisions have to be in the interests of the country, but they have to be taken. Even a municipal head takes more decisions than the government in Delhi," he said hitting out at the Centre.
Retaliating to Chidambaram's jibe that Modi's economic knowledge can be written at the back of a postage stamp, the BJP leader said: "My knowledge is so little that you don't even need a postal stamp. It can be captured in one word — trustee. Gandhiji had talked of trusteeship. You are the trustee of the country's resources, not its owner. For me, this much knowledge is enough." He said he could always hire economic experts.
It seemed that Modi was only too willing to share his plan for the economy and traders and economic experts were only too willing to listen to his explanations because of the expectation that he will be the helmsman of the BJP-led NDA government after the elections.
Modi, on his part, exuded confidence that his party would come to power and address the concerns of the economy. "They will leave GDP at 4.8 per cent. We will have to start from there. I don't think that its a very difficult thing," he said.
He spoke of inclusive growth and FDI, invoking Mahatma Gandhi and Atal Bihari Vajpayee during his speeches. Speaking of FDI, he said it had much scope for human resource development. "To remove hurdles in FDI was government's responsibility."
The Gujarat chief minister pointed out most PMs were from Delhi; so they did not understand the problems of states. "The day a state leader becomes PM, the problems of states will be addressed," he said.
Emphasising on the importance of dignity, he cited the example of women anganwadi workers in Gujarat. "I had said that they should get a uniform which should be better than that of airhostesses."
On energy security policy, he said energy conservation should be made a habit and proposed that India should take the lead in solar energy movement.
He asked traders to use technology to their advantatge and set up "virtual malls in small shops" to cater to brand-conscious consumers in rural areas. "People even in rural areas are now looking for branded stuff. Small businessmen can do big business by setting up virtual units, and take a leap. They can improve the delivery systems and go for online marketing. They can set up virtual malls," Modi told a gathering of the Confederation of All India Traders in the capital on Thursday.
"We don't have to fear global challenges. We can, in fact, convert this into an opportunity and out-run our global rivals. More than our soldiers, it is our traders who are known for their risk-taking capacity," Modi said. He said those who indulged in unfair trade practices should be sidelined.