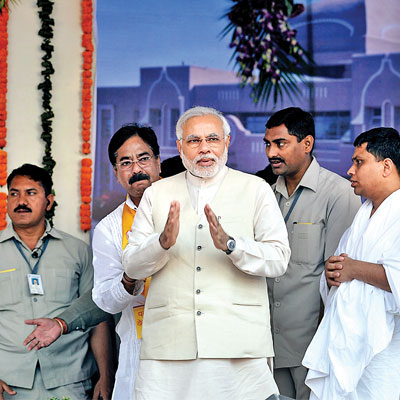 In Centre's view, terror threat on BJP's prime ministerial candidate Narendra Modi's life has not diminished, if not gone up. Centre had sent an advisory to all states, specifically with regard to Modi's security, as late as early this month.
The advisory was sent by the union home ministry keeping in mind the extensive touring that Modi was expected to undergo and address rallies in various states in the run up to the 2014 Lok Sabha elections in various states.
The advisory was separate to another advisory that was sent around the same time for beefing up the security of all other political leaders, sources said.
According to IB inputs, Modi has threat on his life from a number of terrorist outfits including lakshar-e-Toiba (LeT), Jaish-e-Mohammad (JeM), Indian Mujahideen (IM) and also from Khalistani terror outfits like Khalistan Tiger Force.
However, sources clarified that there was no move to increase the security cover for Modi, who already enjoys Z plus security cover, the highest accorded to any person other than present prime minister and those former PMs and their immediate kin, who come under high threat perception.
Currently, only prime minister Manmohan Singh, former PM Atal Bihari Vajpayee and Sonia Gandhi and her kin on account of being the wife of former PM Rajiv Gandhi have been given security by the elite Special Protection Group (SPG).
"An increase would mean giving Modi security cover of the SPG, which can be given only to the present and former PMs and in special cases to their kin. There is no such provision for others," sources said.
Officials also said that there was no move to increase the security cover of other BJP leaders such as Rajnath Singh, Sushma Swaraj and Arun Jaitely as there is no new input on threat perception on them.
The security agencies see maximum threat to politicians in the states of Uttar Pradesh and Punjab which they claim are habitually offenders when it comes to providing security to VVIPs visiting from other states.
"We have told about this shortcoming to these states several times but they do not take a note of it. It is their duty to provide adequate security cover according to the established norms when high profile leaders come to their states as only Z plus security cannot cover the possibility of terror attacks done from a longer range. Given the present security arrangements these states make it is not very difficult for the terror outfits to breach it," sources added.