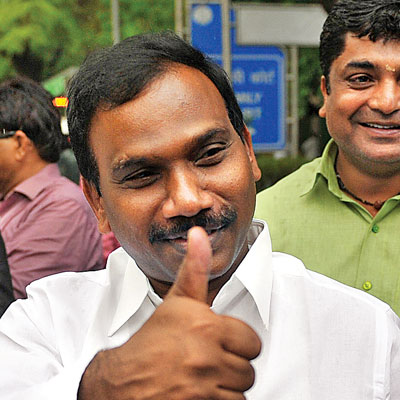 Former telecom minister A Raja on Monday stated that the Supreme Court monitoring of 2G case led to CBI's predetermined investigation and fabrication of oral evidence. Raja reiterated that the prime minister was aware of the procedure he followed to allocate the spectrum in 2008 and the decision was made on a proposal of the department of telecommunications after discussing it with other cabinet ministers and the then solicitor general.
Raja, while recording his statement under section 313 CrPC at the court of special CBI judge O P Saini, stated that he "did not take any unilateral decisions and his actions do not amount to abuse of official position or any other offence".
"I did not take any unilateral decisions, but acted on the proposals of DoT and discussions with other cabinet inisters and the then solicitor general and after properly apprising the Hon'ble prime minister and taking his concurrence,"Raja read out the statement loudly in the court.
Raja had to answer a humongous 1,718 questions sent to him by the court earlier, however, he chose to skip most of the questions saying "I don't know"or "it is matter of the record".
"The monitoring of the investigation by the Hon'ble Supreme Court led to the CBI investigating the case in a predetermined manner and fabricating oral evidence, since there was no documentary evidence to support the prosecution,"Raja told the court.
After the 2G case surfaced Raja resigned as telecom minister in 2010 and was arrested by the CBI. He had spent several months in Tihar jail and is currently out on bail.
Even though Saini objected to mention SC in the statement, Raja insisted that he just wished to put the fact on record and had no grievance against the apex court.
In 2012, SC canceled all the licences allotted in 2008 and ordered to allocate spectrum at market rates determined through auctions.
Raja also blamed the "flawed CAG report" and "adverse media publicity" for his "implication" in the scam."The CAG report made the whole issue sensational and there was complete ignorance of policy formation and government functioning by the officers investigating the case," he said.
Raja further stated that there was a disagreement among different arms of the government itself (parliament, cabinet, PMO, Planning Commission, TRAI, ministry of law and justice, ministry of finance, CBI and CAG) leading to institutional conflicts on key issues such as NTP-99, Cabinet decision of 2003, UASL Guidelines, Indian Telegraph Act, Indian Wireless Telegraphy Act and various TRAI recommendations till 2010.
"On key issues such as the interpretation of NTP-99, the Union Cabinet has not accepted the interpretation given by the Hon'ble Supreme Court, as evident in the Presidential Reference made to the Hon'ble Supreme Court itself. I was not given an opportunity of hearing by the Hon'ble Supreme Court," he said.
On being asked why the prosecution witnesses had testified against him, Raja said that they had done so"out of fear of being made accused in the case."
"There was a cartel among old GSM operators and their interests would have been seriously affected by entry of new operators which would have led to reduction of tariffs," said Raja. He also alleged that old GSM operators were also taking advantage of non-disclosure of availability of spectrum and sharing spectrum among themselves and preventing new competition, which was opposed by him.
He said that he had acted as per recommendations of the Telecom Regulatory Authority of India (TRAI) and had increased competition in the market.
"I have acted throughout in public interest in accordance with the law, regulatory framework and Government policy, and not for any personal gains. There has been no loss to the exchequer and on the contrary, tariff has come down and tele density has increased manifold, leading to public savings as well as increase in revenue share of the Government," he said.
On being asked about the allegations of former corporate lobbyist Niira Radia, a CBI witness in the case, regarding allocation of 2G licences to accused company Swan Telecom Pvt Ltd, Raja said he had approved the grant of licences to any firm only after its file was proposed by the DoT.
He also denied knowing and regularly meeting Shahid Usman Balwa and co-accused Sanjay Chandra, MD of Unitech Ltd, during his tenure as Minister of Environment and Forests.
Incidentally, he also denied ever having met DMK leader Kanimozhi at her residence.