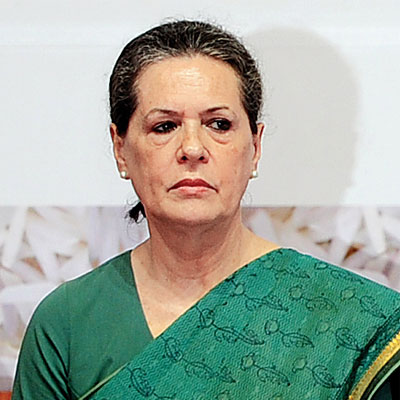 Congress President Sonia Gandhi on Monday held a strategy session with party leaders in Parliament ahead of the two-day debate in the Lok Sabha and the Rajya Sabha on the motion of thanks to the President for his address. The deliberations took place at a time when suspense continued on the issue of the Leader of the Opposition in the Lok Sabha.
Congress leader in the Lok Sabha Mallikarjun Kharge and the party's leader in the Rajya Sabha Ghulam Nabi Azad would be its first speakers while Deputy leaders from Lok Sabha Amarinder Singh and Rajya Sabha Anand Sharma will be other key speakers from the party.
Gandhi is hosting a lunch to UPA MPs tomorrow, the first such occasion to interact with them after the worst electoral debacle of the party and the alliance. She had held a meeting of the UPA Coordination Committee last week. Besides Kharge and Azad, the meeting was attended by Sharma.
Congress has pitched for the Leader of the Opposition post in the Lok Sabha insisting that a "quick and proper" decision on the issue should be taken without any controversy.
This is notwithstanding the taunt by Parliamentary Affairs Minister M Venkaiah Naidu that no opposition party has earned the numbers to be eligible for that post. He,however, has made it clear that government has still "not foreclosed" the issue.
At the Congress briefing, party spokesman Anand Sharma said, "as far as Parliament session is concerned, we will have a positive approach and we will respect the dignity of the Parliament. We will oppose the policies which are not in the interest of the nation."
Asked to comment on the BJP government stressing the need for 'functioning Parliament', he took a dig at BJP reminding it that the earlier mandates were not for obstructing Parliament.
"I fail to understand as to how the DNA changes within weeks. We have always believed in a functioning Parliament and the country is aware who stalled Parliament, did not allow Parliament to transact business", Sharma added.