Prime Minister Manmohan Singh in a nationally televised address said "anger at this crime is justified but violence will serve no purpose."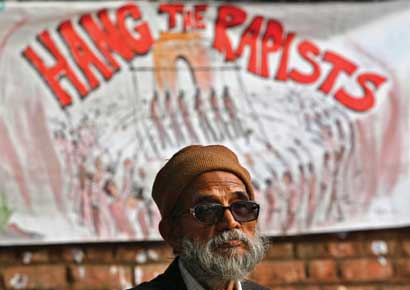 A total clampdown was enforced at the India Gate by police which shut down roads leading to the area, a day after protests against the Delhi gang-rape at Rajpath turned violent, even as Prime Minister Manmohan Singh appealed for calm.
With no let up in the demonstrations after the action shifted to Jantar Mantar, about 3 km from India Gate, Prime Minister Singh in a nationally televised address said "anger at this crime is justified but violence will serve no purpose."
Singh said government will examine the delay not only the responses to the "terrible" crime but also all aspects concerning the safety and security of women.
The assurance came even as Delhi Lt Governor Tejinder Khanna ordered action against some senior police officers.
"We have suspended two ACPs Mohan Singh Dabas (Traffic) and Yagram (PCR). I have instructed the Police Commissioner to seek explanation from DCPs Premnath (Traffic) and Satbir Kataria (PCR) and will decide on further action after that," Khanna told reporters after he cut short his visit to the US and returned to the Capital.
As the outrage over the December 16 gangrape of a 23-year-old physiotherapy student in a moving bus continued , police said a charge sheet in the case will be filed "within a week".
The health of girl deteriorated after she showed tendencies of internal bleeding, with doctors at Safdarjung describing her condition "very serious and very critical" but psychologically fit.
Delhi Police mentioned the names of former Army Chief V K Singh and yoga guru Ramdev in an FIR registered here in connection with the clashes between their supporters and police at Jantar Mantar during a protest yesterday.
Security personnel kept Rajpath, the stretch linking India Gate and Raisina Hill leading to Rashtrapati Bhavan, locked down with barricades and heavy deployment of personnel with riot-gear besides disallowing traffic on Rajpath and closing down nine Delhi Metro stations.
It was chaos on roads as police restricted vehicular movement around India Gate leading to huge traffic jams in central Delhi, including near ITO, Mathura Road and roads leading to the VIP areas.
At Jantar Mantar, a number of protesters gathered to demand speedy punishment for the criminals involved in the gangrape but no violence was reported.
Police did not allow anybody to reach near India Gate or Raisina Hill, which saw pitched battles between security forces and protesters yesterday leaving around 150 injured from both sides.