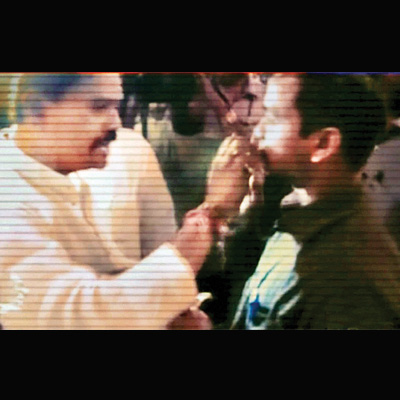 Shiv Sena MP Rajan Vichare who force-fed a supervisor of the IRCTC canteen in Maharashtra Sadan on July 17 said on Wednesday he regretted the incident after he came to know that the man was a Muslim and was fasting for Ramzan.
He, however, added: "It's not written on anyone's face whether he/she is a Hindu or a Muslim. I got to know about it just now."
Television channels throughout the day showed a CCTV grab of Vichare forcing the supervisor to eat a chapatti.
As a mark of protest, the IRCTC has withdrawn its catering facilities from the sadan. On Wednesday, a two-member fact finding committee of group general managers was formed to investigate the incident. The committee will have to submit its report within three days.
Suhas Mamdapurkar, the manager of the sadan, was transferred on Wednesday in the wake of the controversy. Mamdapurkar, who also held the charge of assistant resident commissioner (security), could not be contacted. Both his mobile phones were switched off.
On July 17, a group of 11 Shiv Sena MPs, apparently angry over not being served Maharashtrian food, created a ruckus at the sadan. Vichare, according to the footage, forced catering supervisor Arshad Zubair to eat a chapatti.
READ MORE: Video shows Shiv Sena MP force-feeding Muslim staffer; MP Rajan Vichare forced to apologise
At the Shiv Sena's office on the third floor of Parliament House, Vichare tried to defend himself. The four-time MP from Thane, who won this year's Lok Sabha election by a margin of 2.86 lakh votes, claimed he was only asking Zubair to taste the food "which was not fit for even animals".
Zubair was not available for the comment.
As the controversy raged on TV channels, the Sena claimed that the MPs were protesting against bad administration of the sadan, which was being falsely portrayed as a 'communal incident' by opposition political parties.
"Resident commissioner Bipin Mallick is the reason for all the problems here. He should be removed from here within two days; otherwise, we will raise the issue in Parliament," Sena MP Krupal Tumane, who too was part of the July 17 group, said. Mallick is currently not in the capital and was not available on phone.
Chief minister Prithviraj Chavan ordered an inquiry into the complaints by MPs regarding services provided in the Maharashtra Sadan. Chief secretary JS Saharia will submit a report.
But Chavan red flagged the rowdyism of the Sena MPs and said public representatives must recognise their responsibilities and behave accordingly.
Muslim and secular organisations in Mumbai unequivocally condemned Vichare's act. "They took out their anger on the supervisor. It happened when he was fasting, which is horrible. It was IRCTC that comes out with food. If they have courage, why do not they go and fight with railways and the railway minister. It is they who decide what menu to serve," Irfan Ali Engineer, director, Centre for Study of Society and Secularism, said.
"They are MPs and most of them are not first-timers. They have done this not in some ordinary place but in a government premise. The Modi government will send a wrong message if they do not take any action," Maulana Hakim Mehmood Dariyabadi, general secretary of all the India Ulema Council, said.
"This (uproar over the incident) is an attempt to silence Shiv Sena's voice. We are proponents of Hindutva but we don't have hatred for other religions," Uddhav Thackeray told reporters in Aurangabad.