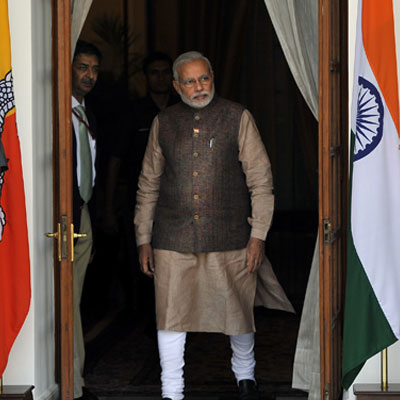 The Central Public Works Department (CPWD) is still waiting for instructions from Prime Minister Narendra Modi to refurbish his official residence at 7, Race Course Road in the heart of Lutyens Delhi. Ever since Modi moved into 7, RCR, he has not asked for furniture or "makeover", and continues to use just one bedroom and a bathroom. Just one door latch has been changed.
Modi moved into bungalow number 5 of the 7 Race Course Road, which was used as a guesthouse by his predecessor Manmohan Singh, who preferred to live in bungalow number 3. Modi moved into the official residence of the PM on May 26. Singh had moved out the same day. The CPWD had furnished the guesthouse for Modi. It was then decided that if Modi wanted to move to bungalow No. 3, it would be made ready in a few days. "However we have not got any intimation from PMO to renovate the house," said a senior officer of the urban development ministry on condition of anonymity.
It has been about three weeks that Modi has moved into the new house. "But except for a door latch that needed to be changed, no other change has been made to the house," said the officer.
To CPWD officials, it appears that Modi only uses a bedroom and a bathroom. "The PM has not asked for any change in the furniture nor has he asked for any piece of new furniture. The furniture is still lying around just as it was earlier. We do not see any changes made," said the officer.
Modi is known to keep a busy schedule, starting his day at 6 in the morning and ending late at night. Considering that the list of his government's priorities includes such grave matters as putting the economy back on track, curbing food prices and inflation, and so on, it is understandable that he has little time left to think about home improvement.
But the officers are now left in a fix. This is the first time in years that the there is not much to do at the PM's residence. "We carry out basic maintenance of gardens, lawns and other outdoor areas. But as far as the PM's house is concerned, there is absolutely nothing that the PM has asked for," said the officer.