Two persons killed and at least 19 injured as clashes break out in western UP district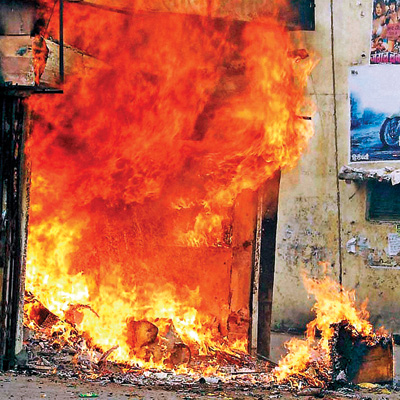 With riots again breaking out in the communally sensitive Western UP area in Sahranpur near Muzzafarnagar, it is becoming increasingly clear that the communal and crime situation in UP is spiralling out of control.
Two people died and more than 20 were injured in violent clashes in Sharanpur, about 80 km from New Delhi on the way to Dehra Dun and 570 km from state capital Lucknow. The clashes broke out allegedly over construction on a disputed property. Curfew has been imposed in Saharanpur.
Many shops and vehicles were vandalised and set on fire as the two groups confronted each other. Several policemen were among those injured as the protesters clashed and pelted stones at each other. There were also reports of firing.
"As per the information received so far there was a dispute over land between two communities which escalated on Saturday morning," said additional director-general of police (law and order) Mukul Goel.
There's massive security deployment in the area now. Personnel of the Provincial Armed Constabulary (PAC) and the Rapid Action Force (RAF) have been called in.Police used force and fired rubber bullets to control the situation as mobs went on a rampage setting ablaze a number of shops.
The first major riot in the nearby Muzaffarnagar area broke out in 2013, about six months before the general elections. This riot in which over 60 people were killed are believed to have polarised the electorate in western UP and the BJP reaped heavy electoral gains in the region winning almost all the seats.
Since that riot there have been at least four other riots in the region. In the entire region there is continuing tension between the Jats and the Muslims, resulting in frequent clahses over minor issues, the one in Sharanpur being yet another example.
Rape cases have also been going up in the entire state. The case of two young girls who were raped and hung from a tree in a vilage in Badaun shocked the world after pictures of the hanging girls were made public.
Chief minister Akhilesh Yadav and his father Mulayam Singh hav ebeen saying that such situations happen not just in UP and have failed to take any efficient steps to control the spiralling crime scene.
Beside Saharanpur, situation is also tense in Moradabad where the BJP leaders announced a visit to Kanth area. The BJP alleged that its senior leaders were either detained or prevented from reaching Kanth.
Clashes had erupted between BJP workers and the police in Kanth on July 4, 2014 over holding of a mahapanchayat called by the party to protest removal of a loudspeaker from a temple in Akbarpur village, which led to communal tension in the area.
Reacting to the recent violence, Congress vice-president Rahul Gandhi said , "I am deeply saddened to hear of clashes in Saharanpur. Violence, divisiveness and hatred have no place in our country. This politics of hatred must end. I appeal to every one to remain calm and refrain from fanning communal passions."