In a rare speech, the Gandhi scion admitted that the UPA chairperson was emotional for letting him serve the party for the rest of his life.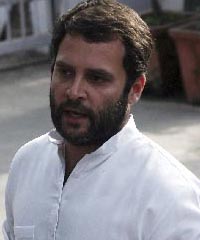 Newly appointed Congress vice-president Rahul Gandhi on Sunday struck an emotional chord with party members at the All India Congress Committee (AICC) session here as he spoke of his mother Sonia Gandhi breaking down in front of him.
On Saturday night, when everyone was congratulating him on being appointed vice-president of the party, Rahul said his mother came to his Rambagh Palace room and started weeping. Holding him by his shoulder, she told him "power is poison" and that she understood what it does to people.
In a rare speech, the Gandhi scion admitted that the UPA chairperson was emotional for letting him serve the party for the rest of his life. In 1980, after her brother-in-law Sanjay Gandhi's death, Sonia reluctantly allowed her husband Rajiv to join politics. The Congress asked her to lead the party after his assassination in 1991, but she declined and went into seclusion. Sonia agreed to take over the baton in 1998 after the Congress lost power. And when the party came to power in 2004, she chose Manmohan Singh as prime minister.
There was a clamour for Rahul to speak from the time Sonia started the day-long AICC session. She had tears in her eyes when Rahul narrated the assassination of her grandmother, late prime minister Indira Gandhi, by her bodyguards. l Turn to p8
Sonia proposes, Rahul opposes
He said the bodyguards were his badminton partners on the lawns of his Safdarjung Road residence till the day before his grandmother was assassinated. "I was playing badminton to find balance, but I lost balance when they killed my grandmother," he said.
In his speech, Rahul focused on how the system his seniors have built over the past 60 years was beyond repair. He advised delegates not to chase power. The Congress vice-president began his 40-minute address by questioning why only a handful of people control the system and why all powers were grossly centralised.
"Why are we in this situation? Why is it that I ask our ministries do the work of panchayats? Why is it that the Supreme Court handles the load of lower houses of justice? Why is it that the CMs need to appoint a teacher? Why is it that a VC chosen by people who far removed from their education systems? No matter what state you look at, no matter which political party you look at, why do a handful of people control the entire political space?" he asked.
Rahul affirmed that billions of Indians were raising their voice for a greater say in government, in politics and in administration. "They are telling us that India's governmental system is stuck in the past; it has become a system that robs people of their voice, a system that disempowers instead of empowering them," he said.
The 42-year-old leader complained that in the present system, no one's voice is heard. He said it was a tragedy for India that the people were getting alienated from the political parties as their voices were trampled upon.
"Every single day, I meet people who have tremendous understanding, deep insight but no voice... they are everywhere. But almost always, they are kept outside our system, no one listens to their voice, no matter how much they try to speak.And then I meet people holding high positions with tremendous voice but no understanding for the issues at hand," Rahul said.
He said the answer to address such ills was in the complete transformation of the entire system. Rahul first spoke in English and then in Hindibefore switching over to English again. He said he hoped that India would change and that unless there is hope, there cannot be change.
'My mother knows power is poison'
Everyone congratulated and hugged me. But last (Saturday) night, my mother came to my room and cried. She cried because she understands that the power that so many see is poison. She can see it because she is not attached to it, Rahul Gandhi said.