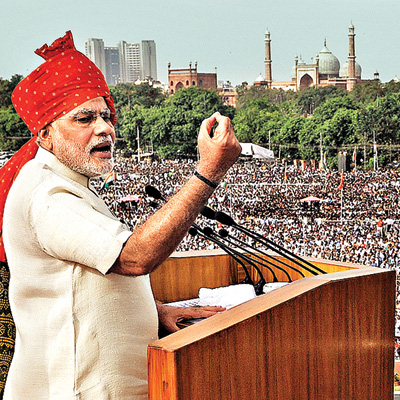 Apart from financial inclusion, developing model villages in every block and latrines across the country in every school within one year, prime minister Narendra Modi's most significant announcement from the ramparts of the Red Fort was the burial of the Planning Commission, the last remnant of Nehruvian socialist economy. The 70-munite extempore speech of Modi, the first in many years that broke the dullness and monotony, was however, largely dealt with domestic issues, even though a record number of foreign diplomats had made a beeline in wee-hours to find a place in the VVIP enclosure. The sole exception was the PM's mention of seeking cooperation amongst SAARC nations to eradicate poverty. The bullet proof glass that previous prime ministers have stood behind too was also conspicuous by its absence.
The government has decided to abolish the Planning Commission, a 64-year old apex policy making body, and replace it with a new institution to address the emerging economic needs and strengthen federal structure. Modi said, "the internal situation of the country has changed, global environment has changed... If we have to take India forward, then states will have to be taken forward. The importance of federal structure is more today than it was in last 60 years".
"Sometime it becomes necessary to repair a house. It costs a lot of money. But it does not give us satisfaction. Then we feel it is better to make a new house," he said.
Among the schemes, he announced on Friday were, the Jan Dhan yojna under which bank accounts will be opened for the poor. It will also include insurance through debit card for up to Rs1 lakh. The MPs will develop one model village each in their constituencies. Its blueprint will be announced on the birth anniversary of Jai Prakash Narayan on October 11.
He also announced a 'çlean India' scheme under which a cleanliness drive will be launched across India starting October 2. He hoped that on the 150th birth anniversary of Mahatma Gandhi in 2019, the target would have been achieved. Identifying poverty as a common challenge for all SAARC countries, he said the member countries must wage a war against it to improve the lives of their people.
Modi said India had been shamed by rapes and attacks against women, and called on parents in the country to treat their sons and daughters equally. "The law will do its job and do it strictly but as a society every parent also has a responsibility to teach their sons the difference between right and wrong," Modi said.
"Today when we hear news reports of rapes, our heads hang in shame," Modi said, addressing a growing anger against persistent violence against women.
Modi also called on all lawmakers to ensure that separate toilets were built for girls and women. A lack of private toilets in schools has been cited as a reason for girls dropping out of schools. "Can't we just make arrangements for toilets for the dignity of our mothers and sisters?"
While he announced no specific policies, he again vowed to work to pull millions of Indians out of poverty, calling himself India's 'prime servant' and not prime minister.
He said his goal was to eradicate poverty in India, where hundreds of millions live on less than a dollar a day. He urged global investors to bring their manufacturing units to India.
"As I say to the world — 'Come, Make in India'," he said.
Almost all the 153 foreign mission based in Delhi had shown an interest to attend the Independence Day function at Red Fort. In the past not more than 50-60 missions approach the ministry of external affairs for passes. But this year, 150 missions had sought passes, and out of which 144 attended the function. The ministry had made arrangements for simultaneous English translation for their benefit.
Soon after finishing his speech, Modi, sporting a traditional Rajasthani safa (headgear), broke the security cordon and got down from his car to meet a group of school children, who had assembled at the venue. The children from different schools were there since early morning to perform at the venue.