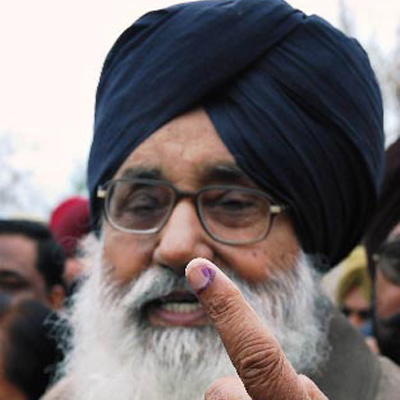 Accusing the previous United Progressive Alliance (UPA) government at the Centre of meeting out "step-motherly" treatment to Punjab, Chief Minister Parkash Singh Badal on Saturday said he would soon call on Prime Minister Narendra Modi to submit a plan for the development of the state.
Interacting with media persons on the sidelines of 'Sangat Darshan' programme in Talwandi Sabo assembly segment here, Parkash Singh Badal said he would soon meet Narendra Modi and Union Ministers in New Delhi to apprise them about the special needs of Punjab, which had "suffered" adversely due to the "step-motherly" treatment of the Congress-led UPA government.
The Chief Minister alleged that the state government's plan to develop Punjab was "deliberately sabotaged" by the previous Union government. "But now, with the formation of the National Democratic Alliance (NDA) government at the Centre, the development of the state would get a major boost," he said.
Punjab government officials have already been asked to prepare a detailed plan regarding the development of the state and the problems faced by it so that maximum benefit could be taken from the grants under the various Central schemes, the Chief Minister said."The country in general and Punjab in particular has a lot of hopes from Modi," Badal said. "Modi is a decisive and visionary Prime Minister of India and he will certainly work hard to realise the cherished dreams of every man of the country," added Badal.
Talking about Bathinda MP and his daughter-in-law Harsimrat Kaur Badal being made the Union Cabinet Minister of Food Processing, Badal said it would help in brightening the prospects of the state in the policies formulated by the Centre.
Badal said being at the helm of affairs in an important department like Food Processing, which is directly related to agriculture, Harsimrat Kaur Badal would play a pivotal role in bailing out the beleaguered farmers of state from the current agrarian crisis.