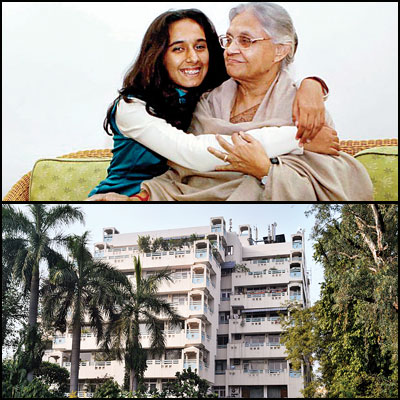 A 2,000-sq ft, three-bedroom flat in Silver Arch apartment on Ferozshah Road in central Delhi would be a desirable address for most people. But it is a comedown if you've lived the last 10 years in a sprawling, six-bedroom bungalow spread over 2.5 acres on Motilal Nehru Marg, in the heart of Lutyens' Delhi. But then such are the vagaries of power, as Sheila Dikshit, Delhi's three time chief minister ousted from power by Arvind Kejriwal in December 2013, must have discovered by now.
Dikshit has signed an 11-month contract to rent the fifth floor apartment in Silver Arch, and is in the process of moving in. Although the former chief minister owns an apartment in south Delhi's Nizamuddin East area, she isn't relocating there because the building doesn't have an elevator, making the second floor apartment difficult to reach for the heart patient. Diskhit has undergone two bypass surgeries. "She is not allowed to climb stairs and so she has decided to move into a rented house so her mobility is not restricted," Dikshit's close aide said on condition of anonymity.
In her new home in Silver Arch apartments, which has an elevator, Dikshit will use one bedroom, convert another into an office and use the third as a library-cum-guest room. She will take her collection of more than 500 books for company along with 30 paintings, some artifacts and furniture. While the new house has air-conditioners, Dikshit has reportedly bought a refrigerator, a microwave oven and a few other home appliances.
Despite being out of office and with no party portfolio, Dikshit receives 10-15 visitors daily. "She meets people from 10am to 12.30 in the afternoon and again from 4 to 7 in the evening," the aide added.
Of her three terms as chief minister, Dikshit spent her first year in office in the CM's official residence at Mathura Road and the next two in the Motilal Nehru Marg bungalow.