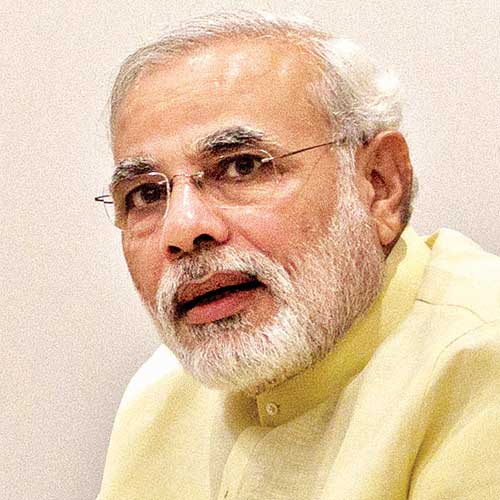 Bharatiya Janata Party (BJP) prime ministerial candidate Narendra Modi said on Wednesday that nepotism is the biggest hurdle facing the country, and added that the Lok Sabha elections are not about the arithmetic calculations but about the chemistry of the minds of the people.
"Nepotism is the biggest hurdle ahead of this country. It is an enemy of the democracy. It rejects the power of society and refuses to respect democratic boundaries. It has resulted in people living like they were living during Mughal rule," Modi said at a rally here today.
"These days political pundits are discussing a lot. They should understand that their estimates are going to be proved wrong," he added.
He took up the cause of the farmers who are committing suicides and said the government is not cooperating with the farmers.
"If we have to solve the problems of the farmers, then we should focus on water. If they are provided with water then they can grow gold out of their farms," he said.
Saying that 'Mar Jawan, Mar Kisan' is the slogan of the Congress, Modi asked what has the Congress done in the last 60 years.
"It is our priority to fulfill Vajpayee's dream of interlinking rivers. We should take water from areas where there is flood to those areas where there is drought. It will definitely help the farmers," he added.
He said that in the BJP manifesto the party has said that the price of the product will be determined only after ensuring 50 percent profit on the input cost of the product.
Asking whether anyone has benefitted during the UPA rule in the country, Modi asked: "Why are they (Congress) running the government when no one has benefitted? Their rule has proved that their true slogan is 'Har Haath Loot, Har Honth Jhooth'. They are just saying blatant lies."
He said the Congress has betrayed the people by not fulfilling their promises but asked people to sever ties with the party.