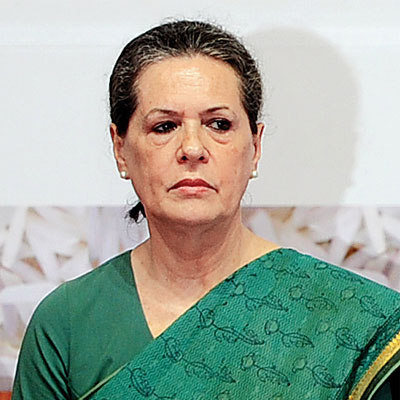 Congress on Wednesday confirmed that it has received the Income Tax notice, asking them to explain diversion of funds exempted from the tax net, to the National Herald and thereby Young Indian, who made money out of it, by leasing and renting out their properties.
The funds generated by political parties to conduct political activities are exempted from the tax net but cannot be diverted for profiteering business. Congress President Sonia Gandhi called the Income Tax notice to her 'political vindictiveness'.
She said that the 'witch-hunt' will help the Congress come back to power."We have been issued notices by the Income Tax department, it's political vindictiveness. Such political witch-hunt will help us come back faster," a visible disturbed Sonia told reporters in the Parliament House premises.
A senior minister here said the Congress had broken the law by diverting funds meant for political activity to a firm where the majority stake is owned by the Gandhis. "Political parties cannot give loans for commercial transactions," he explained.
If this diversion is proved, the Income Tax authorities may impose a heavy fine on all transactions and donations, the Congress may have received over the years. But the Congress leaders say, they were just bailing out their organ National Herald, by helping to pay liabilities and arrears of its employees. The Associated Journals Limited, the publisher of three newspapers, including the National Herald, an English daily founded and edited by Jawaharlal Nehru before he became India's first prime minister was shut down in 2008.
Sonia Gandhi and Congress Vice President Rahul Gandhi have been also summoned by a Delhi court on August 7 in the National Herald case. The summons have been issued on the plea of the maverick Bharatiya Janata Party (BJP) leader Subramanian Swamy who has been alleging that the Congress gave an unsecured loan to Sonia-owned Young Indian Ltd to acquire National Herald's holding company Associated Journals.
Swamy has alleged misappropriation of assets worth Rs 2000 crore of the National Herald newspaper. He had accused Sonia and Rahul Gandhi and others of conspiring to cheat and misappropriate funds by just paying Rs 50 lakh by which Young Indian obtained the right to recover Rs 90.25 crore which the Associated Journals had owed to the Congress party.
He alleged that in the present scenario over Rs 2,000 crore worth of assets also got transferred to Young Indian , whose 76% of shareholding vests with Sonia and Rahul Gandhi and the remaining shareholding of 24% vests with the other accused.