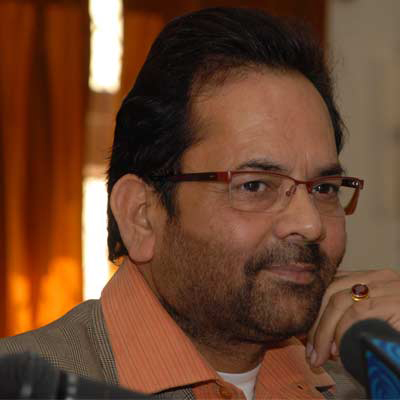 Seeking to allay apprehensions about Narendra Modi as a Prime Minister, BJP today said he will run the government on the lines of former Prime Minister Atal Bihar Vajpayee maintaining harmony and security for all.
"I want to assure you that Modi's government will be run on the lines of that run by Atal Bihari Vajpayee's government to bring in harmony, prosperity and security," senior party leader Mukhtar Abbas Naqvi said.
Naqvi claimed a sense of reservation among the minorities towards BJP is on the wane as they now vote for the party based on merits and demerits.
"During 1980s, there was a negative view about BJP.
Today, minorities vote for BJP based on merit or demerits.
There are no reservations now about the party. That is an important thing today," he said during an interaction at the Women's Press Corps in New Delhi.
He claimed a BJP-led government will put an end to "a sense of insecurity prevailing among the Muslim community" and seek to strengthen their socio-economic conditions and bring political empowerment.
Acknowledging that the party could not ensure adequate representation to Muslims in ticket distribution, he said they will be "compensated with interest" when their government comes to power.
Naqvi defended the party's stand on abrogation of Article 370 giving special status to Jammu and Kashmir as mentioned in the party manifesto, saying the party is of the view that the Article is the reason for Jammu and Kashmir's lack of development.
He said there has to be a review and debate on whether it has benefited the state or not.
Similarly, on the issue of not allowing FDI in multibrand retail, he said the "country is not yet ready for FDI in retail as several states have opposed to it because of fear among traders".
On the controversy surrounding PM Manmohan Singh's former media adviser Sanjaya Baru's book, Naqvi dismissed the suggestions that Baru was part of Narendra Modi's team and had written his memoirs at the behest of BJP.
To a question if they would remove RBI Governor Raghuram Rajan as has been reportedly suggested by some party leaders, Naqvi replied in the negative.
"We respect the people holding Constitutional posts. We can criticise their style of functioning but we will never undermine their posts," he said.
Asked about the contentious Ram Janmabhoomi issue, he hoped it will be solved through constitutional framework.
"Our commitment is to resolve the issue and it should be resolved quickly within the constitutional framework," he said.
He came out in strong support of Modi's close aide Amit Shah whom Election Commission has barred from holding rallies in UP following his alleged hate speeches.
Asked for his reaction, Naqvi said they did not object to the EC decision as they have the right to do so under the constitution.
"But we feel the (EC) decision is not correct. This is because he did not make any provocative comments that can flare up communal tension but SP leader Azam Khan's statement was objectionable. EC is reviewing its decision," he said.
He also hit out at Congress when asked for his reaction on the PMO's decision to take the nod of Gujarat government for releasing the correspondence by the then Prime Minister Atal Bihari Vajpayee on the post-Godhra riots in 2002.
"If Congress comes to this level, then it should know that there are many skeletons buried under the fort of its misrule.
And if these skeletons of conspiracies and crimes come out, Congress will have a lot of trouble.
"So, our advise to Congress is that it should stop doing such nonsense...if we start digging out the skeletons, Congress people will have nowhere to go," he said.
He expressed confidence that BJP will get 200 plus seats in the Lok Sabha elections and do well in the crucial states of Uttar Pradesh and Bihar where it stitched up an alliance with LJP.