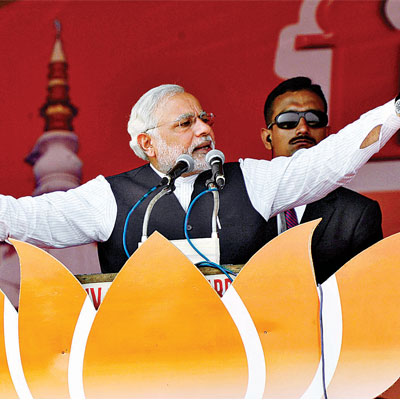 While the BJP is busy carrying out its Narendra Modi-centric campaign on ground, there appears to be confusion in the top echelons of the party. With senior leaders openly expressing their disappointment about certain decisions taken by the party, the BJP has been left red-faced in recent times.
The most recent embarrassment has been the induction of expelled JD-U leader Shabbir Ali, whose membership was annulled by BJP president Rajnath Singh within 24 hours after strong objections by party leaders, particularly vice-president Muqtar Abbas Naqvi. This is the second such incident in a week after Sri Ram Sene chief Pramod Muthalik was expelled within five hours of being inducted into the party.
There was outrage within and outside the party over the decision to welcome Muthalik, who was arrested in connection with the attack on women in a Mangalore pub in 2009.
Sources said Ali's induction had the sanction of BJP's prime ministerial candidate, Narendra Modi, who spoke to him earlier this month. It was Modi, and not some local party enthusiasts, who wanted the Muslim politician from Bihar in the BJP. Ali was expelled from the JD-U after he openly praised Modi and earned the wrath of Bihar CM Nitish Kumar.
Within hours of Ali joining the party on Friday, Naqvi tweeted: "Terrorist Bhatkal friend join BJP, soon accepting Dawood." Though Naqvi deleted the tweet later, he made his displeasure obvious by describing Ali as a friend of Indian Mujahideen chief Yasin Bhatkal, triggering unease in the party. Subsequently, the party annulled his membership on Saturday and asked its leaders to refrain from going public with their views on such issues.
A former RSS/BJP functionary told dna: "Modi had given his nod for Ali's induction, but he seems to have forgotten to share his endorsement with the party. There was a communication gap," he said.
Ali has denied Naqvi's allegations, saying he has not seen Bhatkal even in his dreams. He even plans to file a defamation suit against the BJP vice-president.
A BJP leader from Bihar said inducting Ali was part of a strategy to embarrass Nitish Kumar, who severed ties with the NDA after Modi's elevation in the party. "However, with pressure mounting from within the party and cadre against the decision, it was revoked," the leader said. Apart from Naqvi, the RSS and other party leaders like Vinay Katiyar and Balbir Punj also opposed the move. "Sabir Ali's induction has caused great resentment. Party leadership has been apprised of d strong views of d cadre n people against it," RSS leader Ram Madhav tweeted.
The disenchantment in the party comes as a surprise especially because Modi is at the helm of the election campaign. Differences had also been laid bare when leader of opposition in the Lok Sabha, Sushma Swaraj, had tweeted, opposing the BJP's merger with B Sriramulu's BSR Congress. However, Sriramulu was given a ticket from Bellary in Karnataka despite her dissent.
Despite such instances, BJP candidates are riding on the Modi wave. In Western Uttar Pradesh for instance, they are using slogans like "Mujhe vote do, main tumhe Modi doonga' to maximise their chances of winning the polls. Despite a poor show in their first term, many BJP candidates are likely to be re-elected because of their trump card – Narendra Modi.