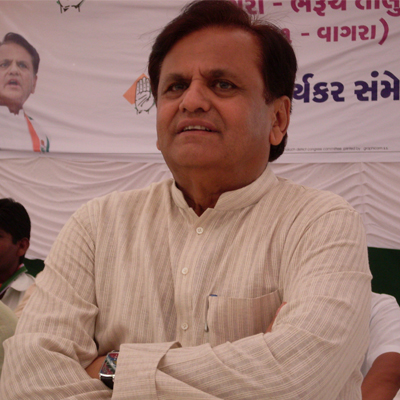 In what has been touted as the modern day Mahabharata, the Congress and BJP are fighting it out bad and ugly. Ahmed Patel, political secretary of India's most discussed woman, Sonia Gandhi, in his recent interview news channel also spoke about how the BJP was just playing its own poll gimmicks time and again.
"India would have criticised the Prime Minister numerous times, but Sonia Gandhi hasn't ever interfered in governance issues," asserted Ahmed Patel.
When probed about the ongoing Robert Vadra rumors and accusations, he said " The BJP is just trying to damage the Congress and thus want to target the Gandhi family. They are not even mentioning what favour he (Robert Vadra) got. If they are so sure of the accusations they are laying on Vadra, let there be an inquiry on the charges leveled on him."
Sanjaya Baru's book 'The Accidental Prime Minister' created quite a furor a few days back. Targeting Mrs. Gandhi in the book, Baru had reportedly stated that the government files were routed through her.
Denying the rumors, Patel said, "Although I haven't read the book, whatever I see on television and newspapers are all baseless." Ahmed Patel also defended the Congress saying it was in fact being victimised in the ugly brawl of words that the BJP was resorting to. "Modi doesn't have tolerance. When there are allegations against him, he crushes them. If the media writes about him, he lodges FIR's against them. What kind of tolerance is this?" said Patel.
The Congress member also said Rahul Gandhi had not made any public statements against the BJP honcho, but had just asked him why the column stating spouse was left empty. He also believed that the Congress would come into power this time around too. "The BJP was just favoured because of the ten year long anti-incumbency at the center. The battle this time around is going to be difficult. However I don't think Modi will be the Prime Minister," said the uber confident Patel. He also commented that the BJP and Modi wave was only limited to the state of Gujarat.
Priyanka Gandhi's presence in a few Congress rallies has been a rather pleasant sight. When asked if she would be joining the party soon, he said " The Congress and Priyanka have both made it clear. Whenever the time is right, she will take the call."
The Congress president's political secretary has, of late, been camping in Gujarat spearheading the party"s election campaign in the state.