It's Cong that has been sowing seeds of poison for the past 60 years, says BJP's PM candidate.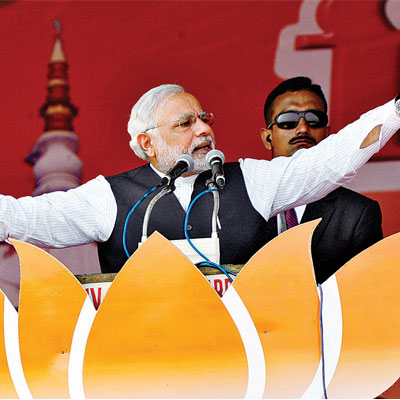 Hitting back at Sonia Gandhi over her 'zehar ki kheti' remark, BJP prime ministerial candidate Narendra Modi on Sunday launched a scathing attack on the Congress by calling it a 'divisive party'.
Addressing his seventh public rally in Uttar Pradesh, Modi said, "Sonia Gandhi has told Rahul Gandhi that power is poison. Who has been in power for most of the time during the last 60 years? In whose stomach has this poison gone? Who is harvesting the poison? They (Congress) are the ones who sow the seeds of poison. The 2014 election will decide the future of the country and we should all get together to change the future of the country."
Continuing his attack, Modi said that Congress has drunk so much poison that it is spewing poison. Congress has sown the seeds of poison and is now harvesting the fruits, he said. "The Congress's very character is divisive. It indulges in the politics of vote-bank and makes communities, castes and states fight one another, and this is the real zehar ki kheti." Modi's counter-attack came a day after Sonia Gandhi at a rally in Karnataka accused him and BJP of indulging in divisive politics by "sowing seeds of poison" (zeher ki kheti) and instigating violence in their "hunger" for power.
He said in contrast to the mess in Andhra and Telangana, where both sides are on fire owing to the politics of divide and rule, former prime minister Atal Bihari Vajpayee had adoringly carved out Uttarakhand from Uttar Pradesh, Jharkhand from Bihar and Chhattisgarh from Madhya Pradesh. "Everyone was happy in both the states and distributed sweets among one another," the Gujarat chief minister said.
Referring to history of riots in UP and Meerut, Modi promised that BJP's government in power will make the state (UP) riot free. "Ahmedabad is just like Meerut, there are always riots, but for the past ten years there have been no riots in Gujarat. The people decided that they had had enough of vote-bank politics and troubles and opted for the path of communal harmony and development. Since then it has been a riot-free Gujarat. BJP would make UP also riot-free if his party is voted to power," he said..
Along with Congress, the ruling Samajwadi Party in the state and Aam Admi Party government in Delhi came under attack in Modi's 50-minute speech. He termed the SP as Samaj Virodhi Party (anti-society party). Modi challenged SP president Mulayam Singh Yadav and his son Akhilesh Yadav, the chief minister, UP, to restore women's pride by improving law and order in the state.
On the recent killing of a youth from Arunachal Pradesh in the national capital, Modi said that Delhi should be developed as a global city. Instead, the language used there and the recent events there "make us hang our head in shame before the whole world".