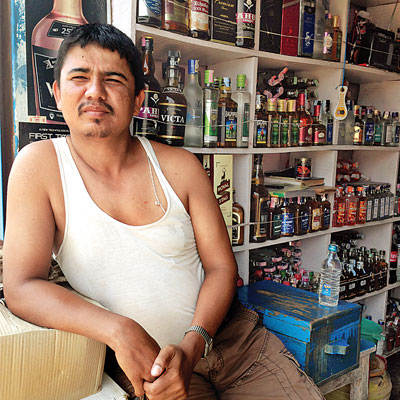 Just across the border into Nepal is a row of "madira pasals" or liquor shops. A bottle of "saunfi", a local brew, costs Rs 15 while on the Indian side, its equivalent "laila" retails for more than three times the price.
People from both sides cross the open border — the Indians to buy liquor as well as Chinese electronic goods and the Nepalese to shop at Indian kirana stores.
"Items like sugar and oil are cheaper that side," says Yam Bahadur Singh, who runs a madira pasal in Nepal along the border. The Nepalese also cross over to visit the Buddha stupa down the road at Piprahwa, where excavations in the 1970s revealed that it represented Kapilavastu, the Sakya capital where Buddha spent his childhood. Nepal claims that Tilaurakot, nearly 30 km from the Indian border, is the site for Kapilavastu.
The tiff does not come in the way of the peaceful co-existence at this Indo-Nepal border, where business on both sides is brisk ahead of elections. The border will close for three days as Domariyaganj goes to polls on May 12. The traders in the bustling market in the Indian border village are waiting to hear BJP prime ministerial candidate Narendra Modi, who is expected to hold rallies in Poorvanchal's border constituencies on May 6.
"We keep seeing him on television... There is so much price rise. We should give Modi a chance now," says Satish, who runs a store at the border.
A jeep comes right upto the gate, which is under construction at the border announcing that BJP candidate Jagdambika Pal will be visiting the area the following day. Pal, who has shifted allegiance from the Congress to BJP, is a familiar face among the locals.
Pal's switch, after nearly four decades in Congress, was more to do with ego and less with ideology. "What can one do if one doesn't get respect in a party" says his wife Snehlata Pal, who has clipped a lotus symbol onto her sari. She is holding fort at the BJP office at Naugarh while her husband is away at a rally.
Sensing the mood, Pal, who may have lost the Muslim vote, has caught on to the Modi chant. Pal man is up against the Congress' Vasundhara Kumari, the wife of former BJP leader and MLA from Domariyaganj Jay Pratap Singh. The SP has fielded speaker Mata Prasad Pandey and BSP Mohammad Mukeem. Peace Party President Dr Ayub is also in the fray.
"If Pal had not joined the BJP, we would have voted for him," says Shamshad Hussain, a doctor in Narayanpura village, which has a sizeable Muslim population. The Muslims are yet to make up their mind whether to vote for BSP, SP, Congress or Peace Party.
At Sardar Patel Nagar in Domariyaganj, not many know that Modi is building a giant statue of Patel in Gujarat. "We don't know about the statue but there is support for Modi," say Sunil and Vikas, who run small shops in the market.
The BJP is confident that Modi is breaking caste barriers. Sonu Kumar Bharti, a Harijan, says there is no point in voting for Mayawati this time.
There are some who are indifferent to elections while there are others who will go the way the wind blows.
In adjoining Maharajganj too, people say they will vote for someone who will stem corruption and bring change. Some are not happy with the BJP candidate Pankaj Chaudhury, who has been an MP for four terms. "He has not done any work but because of Modi we will vote for him," says Banarsi Prasad, a tea vendor.