A study of Narendra Modi's 50 major political rallies shows that very few prominent BJP leaders have accompanied him to the dias. Is this because the BJP does not want to take the focus away from him?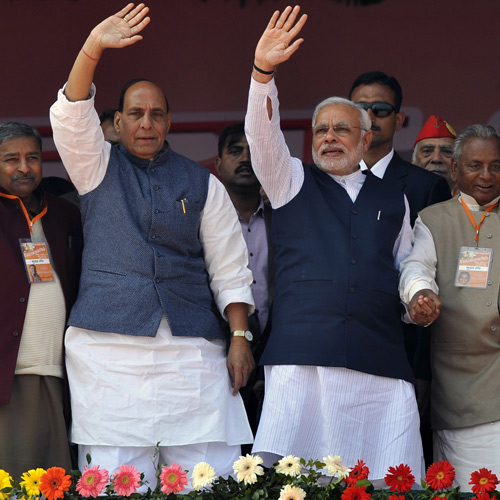 Gujarat Chief Minister Narendra Modi has crisscrossed India ever since his anointment as the BJP's prime ministerial candidate. But barring BJP president Rajnath Singh, none of the other party bigwigs have yet found it fit to share the dais with him on most of his rallies.
A study of Modi's 50 major political rallies shows he has had poor company on the dais. At 20 of the 50 rallies, no big ticket central leader joined Modi. Rajnath Singh has accompanied him the maximum number of times, at 22 major rallies. This means either the top leadership is preoccupied elsewhere, or the party does not want to dilute the singular focus being Modi himself.
Singh has joined Modi's rallies at diverse locations across states. He accompanied Modi on eight rallies in Uttar Pradesh, at Kanpur, Jhansi, Bahraich, Agra, Varanasi, Gorakhpur, Meerut and Lucknow.
Other than UP, Singh also shared the dais with Modi at Bhopal (MP), Trichy (Tamil Nadu), Patna (Bihar), Bengaluru (Karnataka), Jammu (J&K), Dehradun (Uttarakhand), Mumbai (Maharashtra), Ranchi (Jharkhand), Kolkata (West Bengal), Kochi (Kerala), Bhubaneswar (Odisha), Sujanpur (HP), Jagraon (PB) and Goa.
Barring Singh, no senior leader from the party ranks has accompanied Modi on his rallies more than four times.
BJP patriarch LK Advani and the leader of the opposition in the Lok Sabha, Sushma Swaraj, addressed a single joint rally along with Modi on September 25, 2013, at Bhopal.
The study of Modi rallies covers 23 states, and all major rallies held between September 13, 2013 and March 14, 2014 have been incorporated.
As per the analysis, senior BJP leaders Ananth Kumar, Nitin Gadkari and Kalyan Singh have each shared the dais with Modi on four occasions. Whilst Kumar accompanied Modi to Bhopal, Bangalore, Davangere and Mangalore, Gadkari was with him at rallies held in Rohini, Dwarka, Chandni Chowk and Mumbai. And former UP chief minister Kalyan Singh was with Modi at rallies at Agra, Varanasi, Gorakhpur and Lucknow.
Likewise, former union ministers and senior party leaders Venkaiah Naidu and Arun Jaitley have partnered Modi on two rallies each. While Naidu joined Modi at Bhopal and Bangalore, Jaitley shared the dais with him at Patna and Bhopal.
Senior saffron party leaders Murli Manohar Joshi, Rajiv Pratap Rudy and Shahnawaz Hussain each went with Modi to address rallies at three locations. Joshi was at Bhopal, Varanasi and Lucknow. Both Rudy and Hussain were present at Muzaffarpur and Purnia. Outside Bihar, while Rudy attended the rally in Mumbai, Hussain addressed the Kolkata rally.
Leaders like Varun Gandhi, Chandan Mitra and Balbir Punj have each joined one Modi rally so far.
| | | | | |
| --- | --- | --- | --- | --- |
| No. | Date | State | Venue | BJP leaders with Modi |
| 1 | 15 Sept 2013 | Haryana | Rewari | None |
| 2 | 25 Sept 2013 | Madhya Pradesh | Bhopal | LK Advani, Rajnath Singh, Sushma Swaraj, Arun Jaitley, Venkaiah Naidu, Murli Manohar Joshi, Shivraj Singh Chauhan, Ananth Kumar |
| 3 | 26 Sept 2013 | Tamil Nadu | Trichy | Rajnath Singh |
| 4 | 26 Sept 2013 | Kerala | Amritapuri | None |
| 5 | 29 Sept 2013 | Delhi | Rohini | Nitin Gadkari |
| 6 | 19 Oct 2013 | Uttar Pradesh | Kanpur | Rajnath Singh |
| 7 | 25 Oct 2013 | Uttar Pradesh | Jhansi | Rajnath Singh |
| 8 | 26 Oct 2013 | Rajasthan | Udaipur | Vasundhara Raje |
| 9 | 27 Oct 2013 | Bihar | Patna | Rajnath Singh, Arun Jaitley |
| 10 | 7 Nov 2013 | Chhattisgarh | Jagdalpur | None |
| 11 | 7 Nov 2013 | Chhattisgarh | Kanker | None |
| 12 | 7 Nov 2013 | Chhattisgarh | Chhuikhadan | None |
| 13 | 8 Nov 2013 | Uttar Pradesh | Bahraich | Rajnath Singh |
| 14 | 14 Nov 2013 | Chhattisgarh | Raigarh | None |
| 15 | 17 Nov 2013 | Karnataka | Bengaluru | Rajnath Singh, Venkaiah Naidu, Ananth Kumar |
| 16 | 19 Nov 2013 | Rajasthan | Alwar | None |
| 17 | 20 Nov 2013 | Madhya Pradesh | Shahdol | None |
| 18 | 21 Nov 2013 | Uttar Pradesh | Agra | Rajnath Singh, Kalyan Singh |
| 19 | 22 Nov 2013 | Madhya Pradesh | Khandwa | None |
| 20 | 23 Nov 2013 | Delhi | Dwarka | Nitin Gadkari |
| 21 | 25 Nov 2013 | Rajasthan | Bikaner | None |
| 22 | 28 Nov 2013 | Rajasthan | Ajmer | None |
| 23 | 29 Nov 2013 | Rajasthan | Jodhpur | None |
| 24 | 30 Nov 2013 | Delhi | Chandni Chowk | Nitin Gadkari |
| 25 | 1 Dec 2013 | Jammu & Kashmir | Jammu | Rajnath Singh |
| 26 | 15 Dec 2013 | Uttarakhand | Dehradun | Rajnath Singh |
| 27 | 19 Dec 2013 | Karnataka | Belgaum | None |
| 28 | 20 Dec 2013 | Uttar Pradesh | Varanasi | Rajnath Singh, Murli Manohar joshi, Kalyan Singh |
| 29 | 22 Dec 2013 | Maharashtra | Mumbai | Rajnath Singh, Nitin Gadkari, Gopinath Munde, Rajiv Pratap Rudy |
| 30 | 29 Dec 2013 | Jharkhand | Ranchi | Rajnath Singh |
| 31 | 12 Jan 2014 | Goa | Goa | Rajnath Singh |
| 32 | 23 Jan 2014 | Uttar Pradesh | Gorakhpur | Rajnath Singh, Kalyan Singh |
| 33 | 2 Feb 2014 | Uttar Pradesh | Meerut | Rajnath Singh |
| 34 | 5 Feb 2014 | West Bengal | Kolkata | Rajnath Singh, Varun Gandhi, Shahnawaz Hussain |
| 35 | 8 Feb 2014 | Manipur | Imphal | None |
| 36 | 8 Feb 2014 | Assam | Guwahati | None |
| 37 | 9 Feb 2014 | Kerala | Kochi and Trivandrum | Rajnath Singh |
| 38 | 11 Feb 2014 | Odisha | Bhubaneswar | Rajnath Singh, Balbir Punj, Chandan Mitra |
| 39 | 16 Feb 2014 | Himachal Pradesh | Sujanpur | Rajnath Singh |
| 40 | 17 Feb 2014 | Karnataka | Davangere | Ananth Kumar, Yeddyurappa |
| 41 | 18 Feb 2014 | Karnataka | Mangalore | Ananth Kumar, Yeddyurappa |
| 42 | 22 Feb 2014 | Arunachal Pradesh | Pasighat | None |
| 43 | 22 Feb 2014 | Assam | Silchar | None |
| 44 | 22 Feb 2014 | Tripura | Agartala | None |
| 45 | 23 Feb 2014 | Punjab | Jagraon | Rajnath Singh |
| 46 | 28 Feb 2014 | Karnataka | Gulbarga | None |
| 47 | 28 Feb 2014 | Karnataka | Hubli | None |
| 48 | 2 March 2014 | Uttar Pradesh | Lucknow | Rajnath Singh, Murli Manmohar Joshi, Kalyan Singh |
| 49 | 3 March 2014 | Bihar | Muzaffarpur | Ravi Shankar Prasad, Rajiv Pratap Rudy, Shahnawaz Hussain |
| 50 | 10 March 2014 | Bihar | Purnia | Rajiv Pratap Rudy, Shahnawaz Hussain |