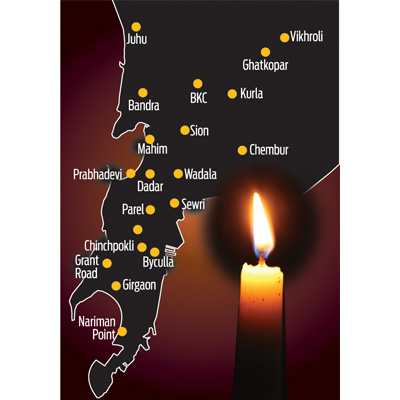 Even as the festival season started with a bang, there's grim news for Mumbaikars and the rest of Maharastra as the government has announced rotational load shedding.
And as a premonition of what is to come, the city went without power for most of Tuesday due to a shortfall of 1250 MW caused partly by the tripping of unit 5 of Tata Power at Trombay power station at 9.45am.
Thankfully, the railways and the Mumbai Monorail services that draw electricity from Tata Power remained unaffected.
Chief minister Prithviraj Chavan later in the day announced a rotational load shedding with a warning of terrible things to come due to the unwillingness of the NDA government to sort out the issue. "Our power demand is about 10,000-13,000 MW daily. However, Tata, Indiabulls and Adani, the power generating firms, refused to excavate coal, generate and supply the power to us. Their argument is that the Centre has imposed high taxes on lifting coal. So, they will not buy coal at high cost. We get 60% of coal from the Centre.
We have already started witnessing the cascading effect of the power crisis," Chavan said.
He siad he had personally told PM Narendra Modi about the impending crisis but he didnt seem to be interested. Chavan was hinting that the BJP was trying to take politcal advantage of the power crisis.
Power experts, however, had a different take.
Anil Gachake, power expert and former vice-president of the Maharashtra Chamber of Commerce said the government is hand in glove with private power companies and are allowing them to hold the city to ransom. "The state government closed down its own 1050 MW power generating plant on flimsy grounds. Ahead of election, the Congress-NCP combine wants to raise funds. Once there is outrage against load shedding, the government will buy power in the open market at high rates and power companies will earn the high profit," Gachake said.
According to another power expert, Dr Ashok Pendse, the state has not paid about Rs2000 crore to private companies as normal base rate; so they have refused to generate enough power. The government is misleading the public on this matter, he said.
BEST gets its supply only from Tata Power, whereas Reliance Energy has Power Purchase Agreement with various power generators, including Tata Power.
Tata Power said in a statement that they have activated the initialisation activites of its standby unit 6, which runs on oil. "While power is available in neighbouring areas of Maharastra... due to overloading of the network it has not been possible to import power for Mumbai," the statement said.