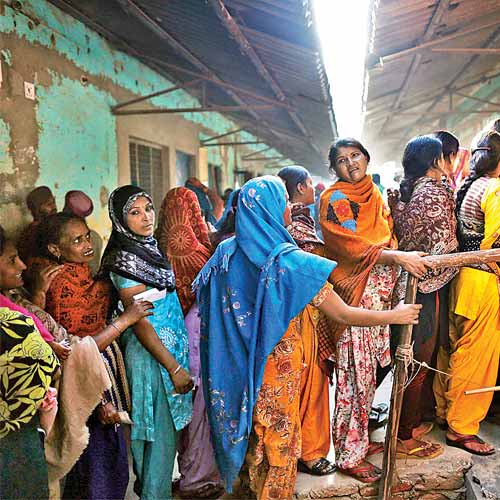 Moderate to brisk voting was witnessed on Thursday in Delhi as 25% of the nearly 1.27 crore electorate exercised their franchise during the first four hours in the assembly polls where Congress, BJP and AAP are engaged in a tough contest.
"25% of the electorate have cast their votes till 11 am. The polling has so far been peaceful and there are no reports of any untoward incident," officials in the Delhi Election Commission said.
Vice President Hamid Ansari, Congress chief Sonia Gandhi, Congress Vice President Rahul Gandhi, Priyanka Gandhi and AAP leader Arvind Kejriwal were among the early voters in the election to the seven Lok Sabha seats in Delhi.
The Lok Sabha elections here are seen as test of Aam Aadmi Party's perceived erosion of support base, BJP's claim of having a 'Modi wave' besides assertion by Congress that it was regaining lost ground after suffering massive defeat in assembly polls in December.
Union Minister Kapil Sibal, Delhi BJP Chief Harsh Vardhan, Congress General Secretary Ajay Maken, Delhi's Chief Electoral Officer Vijay Dev were also among the early voters.
A total of 1.27 crore voters are eligible to exercise their franchise, which include over 3.37 lakh first time voters. 150 candidates are in the fray. The polling began at 7 am and will continue till 6 pm.
There are 29 contenders from New Delhi constituency, the highest for any seat, while the lowest of 14 is in North West seat.
Sonia, accompanied by Maken and Delhi Congress Chief Arvinder Singh Lovely, came to the polling station at Nirman Bhavan in Central Delhi at around 9:30 am and went straight inside the booth to vote as there was no queue.
She is a voter in the New Delhi constituency from where Maken is contesting to retain the seat for the third consecutive term.
Talking to reporters Maken, who is contesting from prestigious New Delhi constituency, exuded confidence of regaining support of the Congress votebank which he said had gone to AAP in the Assembly polls four months back.
"People who voted for Arvind Kejriwal were traditional Congress voters who will vote for us this time. We will win all seven seats. There is no Modi wave," Maken told reporters.
After casting his vote at a polling booth near his residence in Tilak Lane, Kejriwal said Congress has already accepted defeat while BJP's Modi was thinking that he had become the Prime Minister.
Kejriwal, accompanied by his mother, father and wife, also appealed to the people to cast their vote.
Delhi Lt Governor Najeeb Jung exercised his franchise at a polling booth in Rajpura road in Chandni Chowk constituency.
"I have voted for democracy. I have voted for India and I have full faith in democracy and I want it to succeed in this country," said Jung.
The prominent contenders in the fray include Union Ministers Kapil Sibal and Krishna Tirath, Delhi BJP chief Harsh Vardhan, Congress' Maken, journalist-turned-politician Ashutosh, Sandeep Dikshit, grandson of Mahatma Gandhi, Rajmohan Gandhi, and BJP's Meenakshi Lekhi.
There were some reports of malfunctioning of electronic voting machines (EVM) in some parts of outer Delhi but they were rectified, election officials said.
The EC officials said a maximum of 29% polling was reported in North East constituency till 11 AM while lowest of 20% voting had taken place in Chandni Chowk seat. The prestigious New Delhi constituency witnessed 24% voting till 11 am.
The Election Commission has made elaborate security arrangements as it deployed nearly 50,000 security personnel, apart from 161 flying squads of police and video surveillance teams.
The Commission said it has done away with provision of voter cards and voter slips being mandatory to cast vote.
Polling is being held in 11,763 polling stations out of which 327 have been declared critical and 90 hyper-critical.
In 2009 Lok Sabha polls, the overall voting percentage stood at 52.3%, which increased to 66% in the 2013 Delhi Assembly election. The Delhi Election Commission said it was confident of surpassing the figure of 66%.