Slogans were shouted and sweets distributed as workers blasted through the last few metres of rock in one of the twin tunnels which is part of the Eastern Freeway project.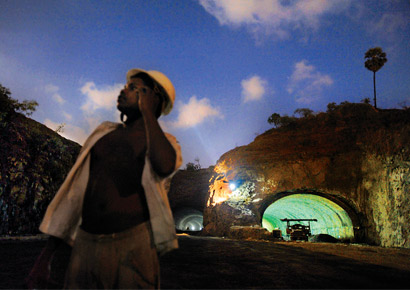 For harried commuters travelling from the eastern suburbs to the island city, there is light at the end of the tunnel, literally, with work on the first urban transportation tunnels in India achieving a major breakthrough.
Also see: In pics: Light at the end of the tunnel

The Mumbai Metropolitan Region Development Authority (MMRDA) managed to achieve "daylight" (the last phase of rock excavation) on one of the two tunnels on the Anik-Panjarpole link road (APLR). The road is part of the 16.8km Eastern Freeway project, costing around Rs 1,100 crore, which will run from PD'Mello Road to Ghatkopar in three stages.
Controlled blasts at around 1.30pm ensured that the around 505-metre-long left hand side tunnel was completed end to end after around 4 metres of rock strata was removed. Work on the project, due to which around 5,000 families had to be rehabilitated, was started in December 2009, said officials.
The engineers working on the site battled weak geological strata which necessitated concreting the full length of the 18 metre by 7 metre tunnels, apart from temporary and permanent supports, during construction. Around 600 controlled explosions will have to be undertaken in the two tunnels.
The breakthrough means that the first tunnel will be complete by January 2013, and the second tunnel, which is around 550 metres long, in another two or three months following that.
Work on around 370 metres of the second tunnel is already complete. The distance between the two tunnels, which will cost around Rs80 crore, is around 7 metres.
A total of 130 skilled workers put in their efforts at the site and a site supervisor reminisced how they raised slogans and distributed sweets after the breakthrough. "Daylight has been achieved. Construction will proceed fast here onwards," said MV Jaitpal, executive engineer, MMRDA, adding that "the behaviour of the rock was the first challenge."
Around 1,200 tons of structural steel has been used in the construction of the tunnel.
The stretch from Orange Gate on P D'Mello road to Anik and from Panjarpole to Ghatkopar (Indian Oil Nagar junction) will be an elevated four-lane road, while the Anik Panjarpole link road (APLR) will be an eight-lane at grade (at ground level) section. The project will also help ease traffic movement towards Navi Mumbai, Pune, Thane and Nashik.