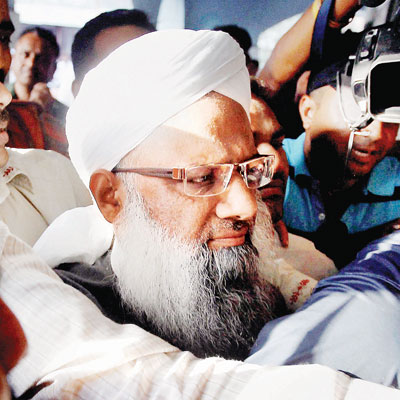 The union home ministry has assured Jamiat-e-Ulema-e-Hind, a religious body of Muslim scholars and clerics, that they would look into the arrest of senior Hyderabad-based cleric, Maulana Abdul Qavi, who was taken into custody from capital earlier this week. JUH smells 'political conspiracy' behind the arrest of Qavi ahead of the Lok Sabha elections.
Gujarat Police arrested Qavi, 58, at IGI airport in the national capital on March 23, when he was on way to Deoband from Hyderabad. Qavi has been arrested for his alleged 'involvement in 2003 conspiracy that led to the murder of then state home minister Haren Pandya and a few other cases', supposedly planned to avenge Godhra riots. Police alleged that he was part of the conspiracy with Pakistan's ISI, Lashkar-e-Toiba and Jaish-e-Muhammad.
Interestingly, in 2011, Gujarat high court acquitted all the 12 accused arrested in the Haren Pandya murder case. Qavi, who is a rector at Jamia Ashraf ul Uloom in Hyderabad, and has written several religious books and is also part of the Jamiat-e-Ulema-e-Hind.
Delhi Police claimed that they had no information about the arrest and home minister Sushil Kumar Shinde maintained the same when he met JUH representatives at Latur in Maharashtra earlier this week. "We have no information about the arrest," a senior officials of special cell of Delhi police told dna.
However, on Sunday, as per JUH, Maulana Nadeem Sidique of the organisation's Maharashtra's unit received a call from the home minister, saying, "Qavi has been arrested by Gujarat Police and not Delhi Police. He said he would look into the matter." Secretary of Jamiat-e-Ulema-e-Hind, Maulana Hakeem-ud-din Qasmi, who has camped in Ahmedabad after the arrest of Qavi confirmed the development.
Even though JUH has consulted a battery of lawyers for the case, Qasmi alleged that the arrest was politically motivated. "Yeh bewaqt pakda gaya (he was caught at a wrong time)," Qasmi quoted a senior Gujarat police official as saying.
"He was not informed about any developments in the case. He was not served any notice. He even went to Gujarat last year. It seems that his arrest is politically motivated especially in the wake of the elections. We don't know, who wants to get leverage out of his arrest," alleged Qasmi.
A special POTA court has sent Qavi to police custody until April 7, and he has been kept in Gaekwad Haweli office of crime branch in Jamalpur area of Ahmedabad. Qasmi has been allowed to meet Qavi and he undergoes medical checkup regularly.
"Qavi said that he was cooperating with the interrogators. He has nothing to hide and nothing extraordinary to share as well," said Qasmi. Qavi, a popular face among youth in Hyderabad, police alleged was involved in pushing youth for arms training to Bangladesh and from there to Pakistan. He is alleged to be involved in criminal conspiracy, collecting arms, waging war against the nations, POTA and arms act.