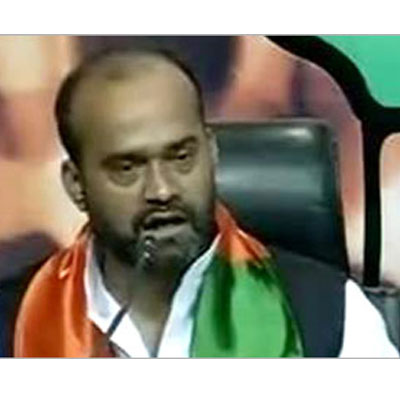 Sabir Ali, the former spokesperson of the Janata Dal (United) has joined the BJP even as the party's vice president Mukhtar Abbas Naqvi has vehemently opposed his inclusion into their ranks.
Ali was expelled from the JD(U) in March 2014 for praising Narendra Modi and his 'plans and policies'.
He was a former member of the Rajya Sabha from Bihar during 2008-2014.
Ali's inclusion in the BJP led to a great amount of anger on part of the BJP vice president Naqvi, who sees the decision as a great mistake due to Ali's supposed past terrorist connections. His anger was clearly expressed in his tweet: "Terrorist Bhatakal friend join BJP...soon accepting dawood........" clearly indicating his displeasure about not accepting Sabir in the party.
However, Ali denies all allegations made by Naqvi, and has asked for proof, which doesn't seem to be available.
The former JD(U) spokesperson currently lives at Kanana, Kodihar, Raxaul in the East Champaran district.
According to him, he joined the party to fight alongside Modi against corruption, inflation and appeasement. He believes that under Modi's leadership, India can attain that change.
Praising the BJP prime ministerial candidate, Ali said Modi could make the nation better.