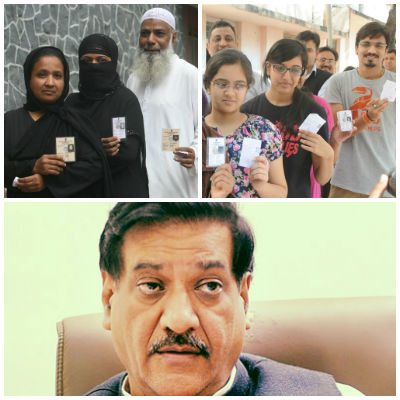 After its stupendous fall in the Lok Sabha elections, Congress is trying to gauge public sentiments and make an impact in the upcoming state elections. After BJP's probable CM candidate Gopinath Munde's demise and Shiv Sena-MNS tiff over candidature, BJP is in a dicey position for the upcoming assembly elections. Congress-NCP's latest outing in the form of 16% reservations for Marathas and 5% for Muslims in government jobs and education institutions will ruffle feathers from the remaining sections of society.
The question is not about the reservations in general but the timing when the announcements commenced. Is this form of 'poll politics' favourable for a democracy? Critics may pan the State government for using reservations as bait to lure voters and maintain its supremacy but the political leaders are far from worried at this juncture.
According to quotes carried by various publications, Congress leaders are rejoicing due to the fact that these reservations will pave the way for resounding success, for the alliance yet again, after its drubbing in Lok Sabha elections.
This decision was taken in the wake of NCP president Sharad Pawar's ultimatum to chief minister Prithviraj Chavan that a populist proposal would get the legislative stamp to provide 16% reservation for backward Marathas and 5% for Muslims in education and government jobs.
With the additional 21% quotas for the politically influential Maratha community and Muslims cleared by the Cabinet today, reservation in jobs and educational institutions in Maharashtra will go up to 73%. If this move works or backfires is yet to be seen, as quotas have not exactly fulfilled their purpose of bridging social and economic inequalities in the past. Congress had used the same tactic in the Lok Sabha elections but that hardly served the purpose, as communities seem to be recognising the need for a stronger governance rather than a shoddy one which relies on SOPS and Quota card to win elections.
Maharashtra Chief Minister Prithviraj Chavan and Congress have forsaken and ignored the Supreme Court's decision of capping quotas at 50% by exceeding the limit for electoral gains.
In other states of India, the statistics are as below:
At a meeting, Prithviraj Chavan said, "Maratha community is being treated as educationally and socially backward and 16 per cent quota has been fixed for them. The quota for Muslims is not religion-based but on the criterion of social and economic backwardness."
He said the provision would come into effect "immediately" and would not impinge upon the existing 52% quotas for various other sections.Replying to a volley of questions about whether the new quota would stand legal scrutiny in view of the Supreme Court judgments of 50% cap on reservations, Chavan had said,"If anyone approaches the court we will explain our stance."
Meanwhile, opposition BJP has termed the decision to provide reservation for Muslims as "politically motivated" and unconstitutional".
"The decision is politically motivated and unconstitutional as there is no provision in the Constitution for religion-based reservation," Eknath Khadse and Vinod Tawde, leaders of opposition in legislative assembly and legislative council respectively, told reporters.
The decision is not only hasty and shows lack of ideas from NCP-Congress bastion but also creates a rift between communities. It will not help the party in democratic governance if they keep playing the reservation card for every political fall. Though reservation for Muslim community is needed, it will again alienate other factions of society as development should be based on educational and economic needs and not on religion and caste to play vote bank politics. It is nearly time that the ruling alliance realises its folly and paves way for better governance or else will be struck down by anti-incumbency and vote bank politics.
Vishal Manve loves curating and tracking news on current affairs, foreign affairs and literature. He is usually seen at dna web desk. He tweets at @vishmanve12