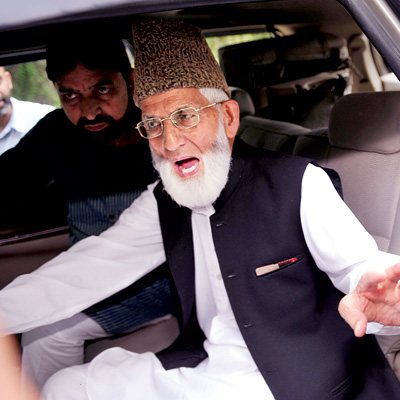 With Pakistan high commissioner in India Abdul Basit's open defiance by meeting Kashmiri separatists, clamour is growing within the government and outside for his expulsion. Over past 60 years of diplomatic relations hit by two wars, only once was the envoy declared persona non grata.
Months after parliament attack India had sent the then Pakistan envoy Ashraf Jehangir Qazi packing. The opposition Congress also demanded the envoy be sent back, but admitted there are costs involved to the move.
Against the backdrop of foreign secretary level talks being called off, now uncertainty looms over other engagements lined up between the two countries.
Both governments were preparing for a summit-level meetings between prime minister Narendra Modi and his Pakistani counterpart Nawaz Sharif in New York in September on the sidelines of the UN General Assembly Session. Another meeting between the two premiers was lined up in Kathmandu in November coinciding with the meeting of SAARC state heads.
Much before India upped the ante by calling off the talks, view in India's security establishment has been gaining ground to ignore Pakistan and concentrate on other neighbours to wean them off China's influence. Officials here believe that due to policies of earlier governments, Nepal, Sri Lanka, Bangladesh, Maldives feel more comfortable with Beijing than New Delhi.
But foreign policy analyst C Raja Mohan, while calling the recent move as usual bump in the road, believes the cancellation of the talks would mean little as long as Modi and Sharif have back-channel communication. Before a structured dialogue, a lot of ground has to be covered through back channels, which have not snapped as yet.
Officials preparing for foreign secretary-level talks in Islamabad too believed that the foreign secretary-level talks would have served little purpose as Pakistan had turned down all proposals put by India to show a forward movement in the bilateral relations. They had also cited internal situation in Pakistan not conducive for talks as currently Islamabad is besieged by Imram Khan's Pakistan Tehree-e-Insaf and religious leader Tahir-ul-Qadri's agitation.
Nobody was, however, ready to call off the talks as it involved Modi's word to Sharif. Modi appears to have also weighed political advantages BJP would gain in the ensuing state elections including Jammu and Kashmir, before cancelling the talks. The decision is supposed to help the BJP consolidate Hindu votes in Haryana and Jammu and Kashmir. Though, the separatists and J&K's mainstream parties — National Conference and People's Democratic Party — protested cancellation of the talks, the BJP leaders from Jammu are excited that the move will consolidate their position.