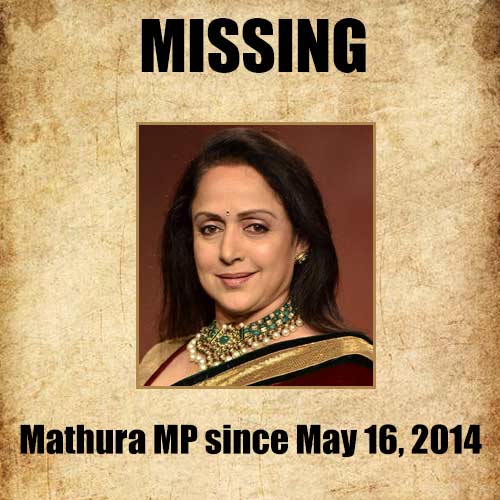 Members of Parliament (MPs) not doing enough for their constituency might not be new, but residents from Mathura decided to get creative with their annoyance with actor Hema Malini who is reportedly missing from her constituency since they elected her as their MP in the Lok Sabha elections.
The NewsMinute reported that since winning the election by over three lakh votes in May, the actor has visited Mathura only once in June, stopping by for just a few hours. This has prompted annoyed citizens to put up missing posters of their MP all over Mathura.
Trade Unions and NGOs have given a memorandum to BJP leaders at the district BJP office and held a rally demanding to know where their MP was. "Everyone warned us that electing a Bollywood star as MP would be a wasteful exercise. Still people of Mathura showed faith on Hema. Smriti Irani is better than her. She is looking after a big ministry but still she takes out time to visit Amethi at least once a month," said Tara Chand Goswami, president of labour trade union.
Some people also burnt an effigy in protest on NH-2.
"Prime Minister Narendra Modi joined work just a day after taking charge but our elected MP Hema Malini, is yet to take charge in Krishna Nagri. People are waiting for her. She had made big promises during election. They are waiting for the MP to fulfill those promises." said protestor Alok Verma.
Looks like the actor is hardly their 'Dream Girl' now.