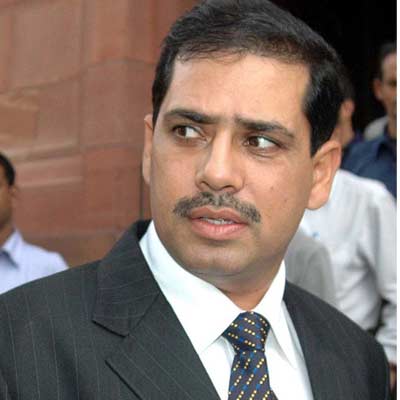 An investigative report by Online WSJ claimed Robert Vadra, son-in-law of Congress President Sonia used his Gandhi family connection for business benefits. The WSJ reveals how Vadra bought large tracts of arid agricultural land in a small town 'Kolayat' in western Rajasthan in 2009 and other parts of the country. According to the report, soon after he began buying, the central government announced plans to promote large-scale solar-energy production, a land-intensive project for which the area was well-suited. He continued buying land, and in 2011 the state, too, announced solar incentives. The value of the land he bought soared sixfold within three years.
While state officials are investigating the matter to find any violations by Vadra, his spokespersons have a different tale to tell. They say, "He is a private citizen who has been subjected to a campaign to malign him for political reasons. He has acquired and disposed of real estate in exercise of his rights and has obtained no favor or benefit from anyone,"
A Pew Research survey found that 83 percent of Indians consider corruption a "very big" problem. Hence, Vadra's inclusion in the corruption list drags Congress too and may prove dangerous for the party in the Lok Sabha elections 2014.
While BJP and AAP have raised the issue of corruption ridden governance by Congress, the party has been trying to estrange itself from the claims. Rahul Gandhi is being potrayed as the anti-corruption crusader by Congress party members.
"Never in my lifetime have I seen the kind of cynicism that the current government in Delhi has generated among the middle classes," said Jyotirmaya Sharma, a University of Hyderabad political scientist in the WSJ report.
What experts say:
*It is hard to know how much property people really own. The wealthy and politically connected in India sometimes hold large amounts in the names of others—from servants to shell companies—to avoid tax officials and corruption investigators, said RH Tahiliani, former chairman of the India chapter of Transparency International, the global anticorruption group.
*No legal authority has accused Vadra of any wrongdoing. An investigative committee appointed by the state of Haryana's Congress-led government reviewed one transaction questioned by a land official in 2012 and cleared Vadra. The Congress party said that Vadra is a private citizen engaged in business and hasn't done anything wrong.
Read: AAP leader Kumar Vishwas to file complaint against Priyanka Gandhi, Robert Vadra and Rahul Gandhi for 'threat to life'
*India Against Corruption, an activist group, has criticized some of Vadra's deals and accused him of enriching himself through transactions with a property developer. The group has called for a new probe of his business that it says would be more politically independent than the one begun in 2012.
*Based on a review of company filings, land records and interviews with property experts, WSJ calculated that through 2012, Mr. Vadra sold more than $12 million of property, and as of then he still held real estate valued at about $42 million
The backdrop and highlights from the report:
Robert Vadra married into India's political nobility in 1997 when he wed Priyanka Gandhi.
She is daughter of Sonia Gandhi and the late Rajiv Gandhi, prime minister from 1984 to 1989.
According to WSJ, When Congress, with Sonia Gandhi at the helm, retook power from the BJP in 2004, Vadra was running a small business exporting inexpensive costume jewelry. In late 2007 he went into the real-estate business, forming a firm called Sky Light Hospitality Private Ltd. with less than $2,000, according to company filings at the Registrar of Companies of the Ministry of Corporate Affairs in New Delhi.
2008: Sky Light bought 3.5 acres of undeveloped land near a highway intersection in the New Delhi suburb of Gurgaon for $1.3 million, according to a sales document.
*Two months later, Vadra applied to the Congress-controlled state government for a license to convert the land to commercial use from agricultural. Preliminary permission was granted 18 days later, according to the license application and state approval. With that, the land became far more valuable.
For more Robert Vadra related stories, click here:
*Over the next four years, developer DLF Ltd. 532868.BY +1.01% poured millions of dollars into Mr. Vadra's company, reported on its balance sheet as "advances." Then in 2012, DLF said it bought the Gurgaon property from Mr. Vadra's company for a total of $9.7 million, most of which it had advanced in the preceding years. It was more than seven times his reported purchase price.
*A senior official at the Haryana state land office, Ashok Khemka, looked into the deal and concluded Mr. Vadra's company "did not own the resources to pay" for the land when purchasing it in 2008. Suspecting irregularities, he moved to cancel the deal.
*The state's chief minister, a Congress party politician, ordered Mr. Khemka transferred to a position in a state-run agricultural company. The chief minister and his staff didn't respond to requests for comment. Mr. Khemka, a whistleblower in a number of past allegations of corruption, said he has been transferred numerous times in his 22-year civil-service career to foil his gadfly efforts.
*According to government filings, Sky Light Hospitality said it paid for the land in 2008 with a loan from state-owned Corporation Bank. 532179.BY +1.43% In 2012, the bank's then-chairman was quoted by the Times of India as saying there "was no such transaction with us as per our records so far." That official has left the bank and couldn't be reached; the new bank chairman declined to comment.
*Aam Admi Party, alleged that the transactions amounted to a ploy for DLF to give the Gandhi family property and money to curry favor. Congress party officials have repeatedly denied the allegation. Rahul Gandhi didn't respond to requests for comment, and a person in his office said he was too busy campaigning to respond.
*DLF said Mr. Vadra's group actually paid much more than $870,000—it said the actual price was about $166 a square foot, which would add up to about $7 million. Today, the seven apartments are worth more than $16 million, real-estate brokers said.
*Mr. Vadra's land purchases in Rajasthan state—some of which brokers say were done through the man in the black SUV—began in 2009, at a time when Congress controlled the state's government. Both the state and India's federal governments had just begun discussing policies to promote solar energy, which requires large tracts of land for solar-panel arrays, a senior official involved in developing the Rajasthan policy said.
*From 2009 to 2012, Mr. Vadra's companies bought about 2,000 acres in Rajasthan for about $1 million, according to a Journal review of land-office records compiled by the Kolayat land office in Rajasthan state. Much of this property was in the state's northwestern corridor, long regarded by energy experts as a good place for solar-power arrays because of its ample sunshine and relatively cheap land.
Read: Sonia Gandhi's son-in-law Robert Vadra will go to jail if NDA comes to power: Uma Bharti
*Locals told WSJ that they will never forget those exciting times. "How much land he bought, you can't imagine," said Lalit Ramavat, a local land dealer.
The new BJP administration directed the land office in Kolayat to pull together records of all transactions in the area involving Mr. Vadra. State officials are reviewing them, said a member of the chief minister's cabinet.