Hope lingers as Centre makes fresh attempt to meet new demands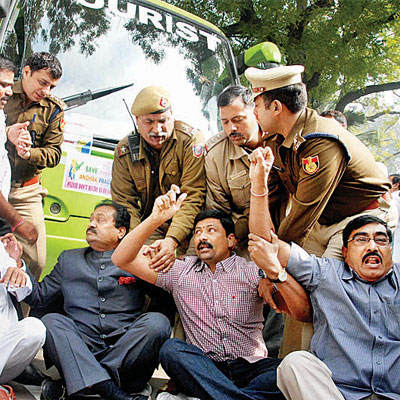 The Group of Minister (GoM) on Telangana met here on Thursday, and found the need for changes in the Telangana draft bill, according to an Andhra Congress source. He also said that even Telangana members were not happy with parts of the draft bill. There are about 10 demands that the Andhra side has made with regard to the bill, and some of them will be conceded, said a Telangana member of Lok Sabha. They spoke to dna on condition of anonymity.
The Telangana member is confident that the bill will be introduced in this session of parliament, and that the new state will be formed. But he insisted that the government will accept only those changes that are feasible. He said that for example it will not be feasible to accept the demand to make Hyderabad a Union Territory.
Union home minister Sushil Kumar Shinde has said after the GoM meeting that the Telangana draft bill will be finalised in a few days' time.
The Andhra source refused to say whether the party high command was maintaining a communication channel with the Andhra legislators. He expressed satisfaction that the GoM has understood the need for changes and that the bill sent to the state assembly was unsatisfactory.
It appears that the government is making attempts to thrash out a Telangana bill which will be acceptable to the Andhra and Telangana legislators and to go introduce the bill.
Congress leaders have been reiterating their determination to stay the course on forming Telangana and not be browbeaten by angry Andhra reaction. The party has shown no inclination to put down the Andhra rebellion led by chief minister N Kiran Kumar Reddy. The speculation is that the party does not want to be seen as a Telangana partisan and to prove its neutrality and apparent fair-mindedness it will have to indulge in the rebellion of its own chief minister.