Military commanders of India, Pak meet for first time after Kargil war.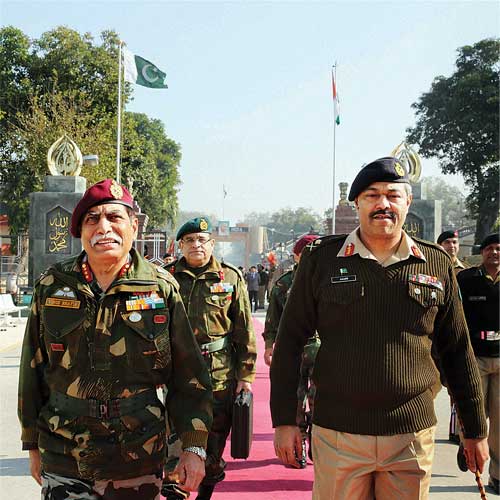 For the first time since the 1999 Kargil War, a senior military commander from India crossed over to the Pakistani side of the Wagah border to discuss the simmering tension along the Line of Control (LoC). Though both sides reiterated their resolve and commitment to continue efforts for ensuring ceasefire and peace on the line of control, but India raised issues of continued firing by the Pakistan army on the Indian forward posts. This year has been the worst when it comes to ceasefire violations by the Pakistan army, as about 250 incidents of ceasefire violations at the LoC.
According to the joint statement issued after the two-and-a-half-hour-long meeting in which consensus was developed to make hotline contacts between the two directors general military operations more effective and result oriented. DGMOs of both countries normally talk on hotline every Tuesday. "It was also decided to inform each other if any innocent civilian inadvertently crossed the Line of control, in order ensure his/her early return," the joint statement reads.
Moreover, the both sides have also agreed to enhance the military level talks. It was decided to hold flag meeting between the two military by brigade commanders at the LoC.
India's director general military operations (DGMO) Lieutenant General Vinod Bhatia met his counterpart Major General Amir Riaz from Pakistan army. In Srinagar, the Jammu and Kashmir government said the infiltration continues to remain a worry for the people of the restive state.
"Infiltration is always a worry and it is continuing. Jammu and Kashmir can do nothing. We have to fight it out and we should not lower the guard at all," Taj Mohidin, J&K minister for medical education told dna.
Main opposition People's Democratic Party welcomed the agreement hoping that the two countries would now take the peace process to the next level. "We want two governments to take the peace process to next level so that cease fire becomes foundation for political and economic cooperation and the resolution of Kashmir," said Naem Akthar, chief spokesman of PDP.