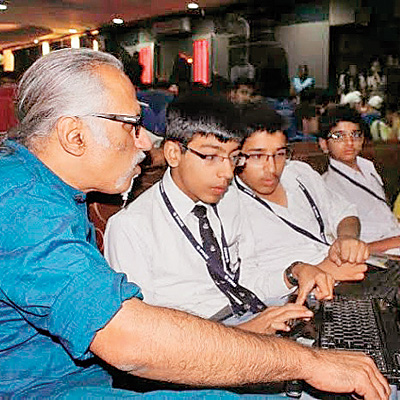 Four Delhi school students have successfully pointed out to hitherto unknown asteroids. Named 2014 00372 and 2014 OU6, the two asteroids will now be placed in the global minor body catalogue maintained by the International Astronomical Union (Paris).
Aryan Mishra and Keerti Vardhan, two class IX students of Chinmaya Vidyalaya, Vasant Vihar, and, Akshat Sharma and Kshitij Jindal of class XI of Bal Bharti Public School, Pitampura, chanced upon the discoveries during the All India Asteroid Search Campaign. Another team from Manipur, of Dhairya Bhimwal and Ronaldo Laishram, had carried out a preliminary discovery which awaits validation. If proven, their observation could also be a discovery.
"It was an amazing experience working on the software. I feel privileged for the opportunity given to me," said Akshat.
"I never thought that I'll discover any asteroid but I was interested in reading about them," said Aryan.
The four had attended a month-training long workshop before the discoveries, spending two-three hours during each sitting during which they were guided by space science mentors.
The asteroid search is conducted globally by the International Astronomical Search Collaboration (IASC), and in India by SPACE, a Delhi-based science popularisation organisation that conducts space-related events and competitions for school students. As part of the programme, schools and independent organisations register teams of two, who undergo a month-long workshop to understand the operation of the search software.
About 75 teams had registered from across the country in the search. Once the programme started, the IASC released real-time data of space from which the students made their observations through a software, sending daily reports to the IASC.
The asteroids discovered by the students are categorised as near-earth objects (NEO). Along with comets, these bodies are nudged by the gravitational attraction of nearby planets into orbits that allow them to enter earth's neighbourhood, necessitating the need to keep a watch on them.
"There was no way to pursue astronomy when we were in school," said Amit Verma, CEO of SPACE. "So it is encouraging to see these kids discover the asteroids. Scientists from established organisations like NASA and the European Space Agency are constantly on the lookout for asteroids."