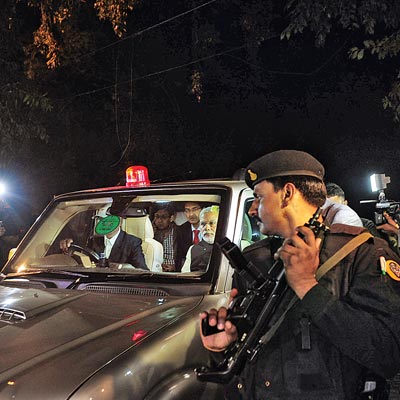 Gujarat chief minister and BJP's PM nominee Narendra Modi who was once boycotted by foreign powers has now become a darling of their envoys in India as they seems to have taken note of his rising political clout. And the latest to end the political boycott is the United States of America whose ambassador to India Nancy Powell is all set to meet him later this week.
Powell's meeting will bring an end to controversial boycott of the Gujarat CM whose visa was revoked by the US in 2005 for his alleged role in 2002 Gujarat riots. The meeting, expected to take place on February 13, also marks US's acceptance of the Modi's growing stature on the national political scene.
The meeting between Powell and Modi was cleared by the ministry of external affairs after the US embassy had approached them.
"It is normal for foreign diplomats and ambassadors of different countries to make a request to the MEA (ministry of external affairs) to facilitate meetings with constitutionally elected functionaries of states, and quite some time ago they asked the MEA … we did facilitate and did communicate that they could proceed with the meeting with the Gujarat chief minister, and it is a normal courtesy we extend to foreign heads of missions," said MEA spokesperson Syed Akbaruddin.
The MEA spokesperson added that the "request was made some time ago, and the meeting is fixed for this week".
It was before the Gujarat elections in December 2012, when Modi was tipped to become the Gujarat CM for the third consecutive term, that major foreign international powers first realised Narendra Modi's growing importance in national politics. Murmurs of him leading the BJP campaign in 2014 only added to that realisation.
His boycott was first ended by the Britain's high commissioner to India James Bevan on October 2012 when he met Modi in Ahmedabad. It was followed by German ambassador Michael Steiner hosting a lunch for Modi in New Delhi in January 2013 which was attended by other envoys belonging to European Union. The meeting with EU had marked over a decade long boycott of the BJP leader.
Later in August 2013, Australian envoy to India Patrick Suckling met Modi and invited him to Australia. In October 2013, French Ambassador to India Francois Richier met the Gujarat CM. Last month, Modi was again praised by EU's ambassador to India Joao Cravinho who called him a "person of great prominence" in the Indian political scene.
All these countries including the US have had business interests in Gujarat but had been avoiding any major political meeting with Modi till they realised his national importance. And US ambassador's scheduled meeting a couple of days later is only the latest one in the list.
However, the ruling Congress party which is leading the UPA government is not much amused. India's external affairs minister Salman Khurshid, while talking to a news channel, refused to directly say anything against US for the meeting.
Khurshid, however, said that the US administration was well versed and had high standards, good records and were committed to liberal values.
Since his visa was revoked in 2005, Modi had never applied for a US visa but it was repeatedly brought up his political rivals, mainly Congress, to taunt the BJP leader regarding his international acceptance.
October 2012 – Britain's high commissioner to India James Bevan met Narendra Modi in Ahmedabad
January 2013 – Modi meets EU envoys in New Delhi over a lunch hosted by Germany's ambassador to India Michael Steiner. Meeting marked EU's over decade long boycott of Modi.
August 2013 - Australian envoy to India Patrick Suckling met Modi and invited him to Australia
October 2013 - French ambassador to India Francois Richier met the Gujarat CM
January 2014 –EU's ambassador to India Joao Cravinho calls Modi a "person of great prominence" on the Indian political scene.
February 2013 – US ambasaador Nancy Powell scheduled to meet Modi.