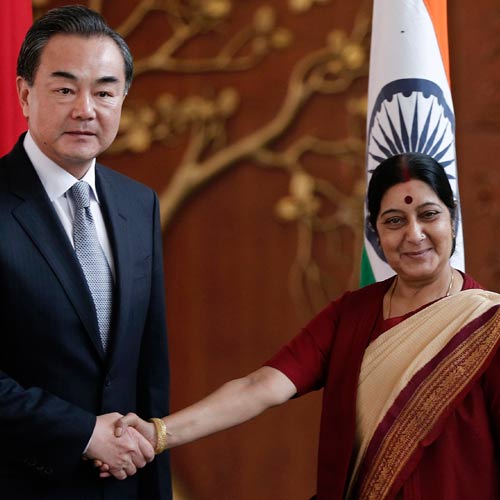 Chinese delegation lead by Foreign Minister Wang Yi met External Affairs Minister Sushma Swaraj here today. The meeting is being held to discuss ways to make Indo-China bilateral relations stronger.
The delegation will also be meeting Prime Minister Narendra Modi. BJP leader shot dead in Greater Noida, mob set ablaze vehicles
Wang, 61, a seasoned diplomat will hold talks with External Affairs Minister Sushma Swaraj and Modi himself during his two-day visit.
He is also expected to call on President Pranab Mukherjee and meet the new National Security Advisor Ajit Doval.
This is the first contact between the two governments after the Lok Sabha election while Chinese Premier Li Keqiang has already spoken to Modi over phone soon after he was sworn in.
During his visit, Wang will meet leading Indian officials and will have in-depth exchanges on how to push forward bilateral relations, Chinese Foreign Ministry spokesman Hong Lei told media briefing here earlier.
"India has formed a new government and China and India now face a new opportunities of development," he said.
While the Chinese official media and state-run think tanks projected a new momentum in trade and economic ties between the two countries considering that Modi visited China four times as Chief Minister of Gujarat, Beijing also closely watched the new government's policy towards US and Japan, whom it regards as arch rivals.
China is watching the countries Modi will be visiting on his first trip abroad considering that Li had made India his first destination abroad after taking power last year.
Chinese media has highlighted Modi's plans to visit Bhutan first this month followed by Japan in July.
Modi is expected to meet Xi at the BRICS summit in Brazil next month.
Earlier China has expressed keen interest about the presence of President Mukherjee for celebrations marking 60 years of Panchsheel, the five principles of peace proposed by Prime Minister Jawaharlal Nehru and his Chinese counterpart Zhou Enlai in 1954.
The function is proposed to be held here on June 28.
Also Xi has already expressed his interest in visiting India after the new government took over and the details may be discussed during Wang's visit while Modi also extended the invitation for the Chinese President during his telephone talks with Li.
Bilateral talks between Chinese Foreign Minister Wang Yi & External Affairs Minister Sushma Swaraj underway pic.twitter.com/obYeBQ0VyZ

— ANI (@ANI_news) June 8, 2014
With agency inputs