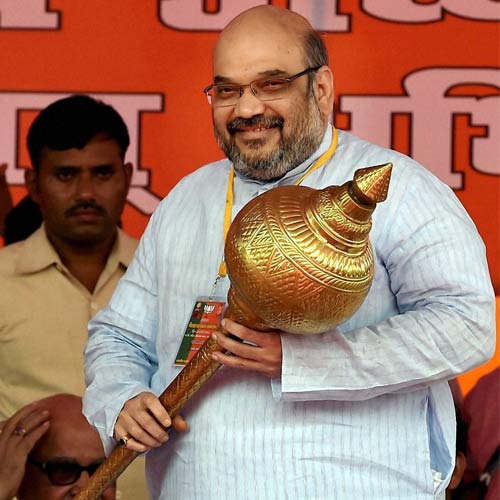 With BJP formulating a multi-pronged strategy for poll-bound Jammu and Kashmir, the saffron party has identified around 30-40 individuals mostly affiliated to other parties to capture clout in the Muslim-dominated Valley. Sources said among these politicians were sitting MLAs and former MLAs from either Congress, PDP or National Conference.
'Narendra Modi' and 'development' are the mantras the party is banking on in the Valley where it has an influence in just 4-5 of the 46 seats. Besides, it will also cash in on former prime minister Atal Bihari
Vajpayee's popularity, a party leader said. The outcome of the Lok Sabha elections has left the BJP sanguine about its electoral prospects setting an ambitious target of 44 of the 87 seats in the state
The BJP is also exploring an electoral understanding with two-three outfits in the Valley besides that of separatist-turned politician Sajjad Ghani Lone's People's Conference. Party general secretary JP Nadda, who was made in-charge of the state recently, had met Lone last month.
The BJP is pulling out all stops to ensure that the Kashmiri Pandits, a strong base for the party, exercise their right to franchise at booths in Delhi and surrounding areas. Back in the state, the party is launching an enrolment drive and is focusing on constituencies where there is a considerable presence of Kashmiri Pandit voters.
In Jammu, on which the BJP is banking heavily for its "mission 44", BJP chief Amit Shah is to address a public rally at Kathua's Ramlila Maidan on Monday. He may also visit border camps in RS Pura near Jammu in the morning to meet the villagers.
The party's performance in the Lok Sabha translates into 33 assembly seats in the region. In Jammu, the party is taking up issues like displaced persons and refugees of 1947, who do not have citizen rights in a state where it is given to only permanent residents. Under Article 370, which grants special status to the state, its residents follow a separate set of laws relating to citizenship, property and fundamental rights. BJP sources said while the party was focusing on development theme, these issues could lead to a debate on Article 370.
With Jammu region itself not being demographically monolithic, the BJP will have to adopt a different strategy there. In Jammu, the party is planning to put up six Muslim candidates while in Kargil it will put up a Shia Muslim candidate, sources said. In the non-Hindu, non-Muslim Ladakh seats, the party is planning to put up Buddhist candidates.
In Leh, where Modi recently addressed a rally, BJP's Thupstan Chhewang won the Lok Sabha elections giving the BJP hope in Leh, Nubra and Zanskar assembly segments.
BJP sources said while the party was aspiring for a majority in the state, its strategy was aimed at ensuring that it emerges as the largest party if there was a split verdict.